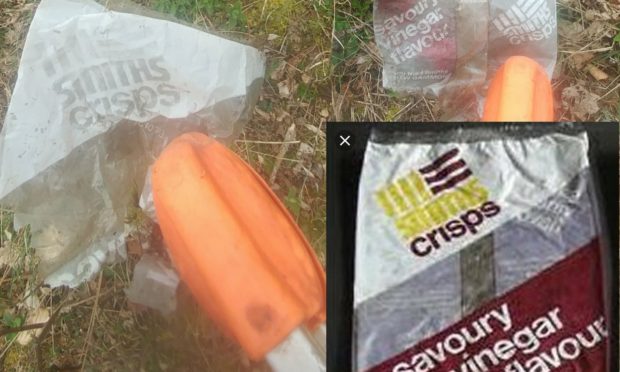 A discarded crisp packet from the early 1970s was found by volunteers during a litter-pick in Perth.
The 2p bag of Smith's Savoury Vinegar snacks surprised clear-up crews working at the city's Kinnoull Hill.
An online check established the now-discontinued range dates back to 1974.
The remarkable find has sparked fresh warnings about the dangers of dumped plastics.
The bag was found by Lesley Reid, owner of Perth's Almond Villa Guest House.
She said: "It stood out because it was a packet design we didn't recognise.
"Some of the group said it brought back memories of when they were younger. It was certainly something none of us had seen for a very long time."
She said: "When we got home I looked it up on the internet and was shocked to see it came from 1974. It's amazing that it has been around for all that time."
There has been growing concern over the risks caused to the environment by discarded plastics.
The global issue, particularly its horrifying effect on sealife, was highlighted in Sir David Attenborough's hugely successful Blue Planet II series.
Local Conservative councillor Angus Forbes said: "It is fascinating to see this 45-year-old crisp packet.
"But it does have a clear message that plastic is with us for a very long time, unless it is recycled properly.
"We have come a long way in regard to recycling, but it is important to remember that a crisp bag dumped on Kinnoull Hill today could still be there in another 45 years to be picked up by community volunteers.
"I must congratulate the community for taking the time to go out and collect rubbish from Kinnoull."
Last year, snack giant Walkers Crisps announced plans to introduce a recycling scheme for its packets. It followed a petition signed by 330,000 people calling for action on packaging.
The clear-up was carried out by 35 volunteers including members of Kinnoull Hill Woodland Park Group, Bear Scotland, local Rotarians and representatives of Santander.
They managed to fill 20 bags of rubbish in an afternoon session, plus another 14 in the evening.
The operation is carried out once a year and has been running since 2010.
Discarded rubbish from bygone era
The Kinnoull Hill crisp bag is one of several remarkable, yet worrying, finds in rural and coastal parts of the UK.
In March 2018, a Monifieth man found a plastic washing up liquid bottle dating back to the 1970s.
The decades-old discovery was made on the sand at Barry Buddon in Angus by Paul Morgan.
The Sqezy bottle was marked as 6d off – showing that it pre-dated decimalisation in 1971. Another plastic container dating back to the 1980s was also found nearby.
In September 2018, a tin of household polish from the 1920s washed up on the beach at St Cyrus nature reserve near Montrose.
The rusty can of Min cream car and household polish was found among 12 bags of rubbish lifted off the sands.
A pull-top Panda Shandy drinks can, believed to date from the 1980s, was also discovered on the same stretch of coastline the month 
before.
Last year, beach cleaners in Fife found an empty bag of Golden Wonder Wheat Crunchies with an expiry date of December 1999.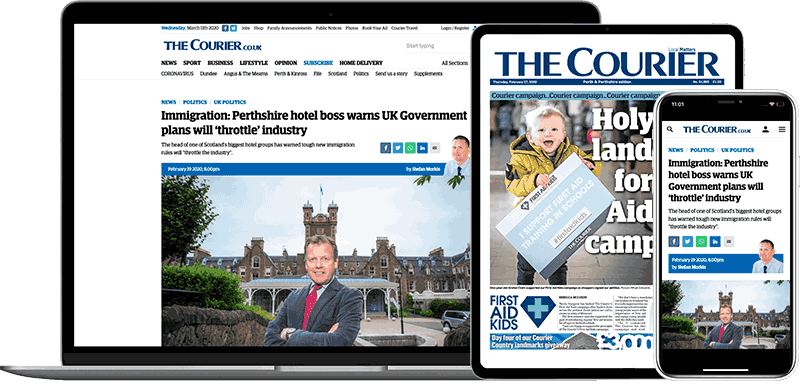 Help support quality local journalism … become a digital subscriber to The Courier
For as little as £5.99 a month you can access all of our content, including Premium articles.
Subscribe