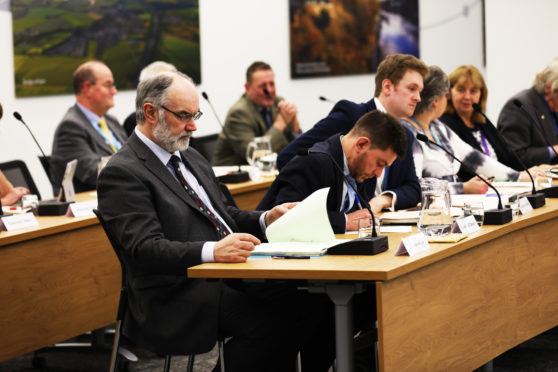 Perth and Kinross Council will need to dip into its reserves to balance the books after a budget blunder led to a shock increase in music tuition fees.
The local authority voted on Wednesday to redraw its spending plan, removing a 20% rise in instrumental lesson fees that had been voted through by error in February.
Councillors faced a race against time to formally amend the budget by £50,000, before incorrect invoices were sent out to families across the region. To do this, the Tory/Lib Dem administration had to prove the issue was urgent enough to require the suspension of standing orders.
Council leader Murray Lyle said: "The reason the budget decision was taken on the day, was a misunderstanding on my part.
"As far I'm concerned, this is an urgent matter because invoices will have to be produced and sent out prior to the next full council meeting.
"On that basis, a decision has to be made one way or the other today. This has been the first opportunity to remedy this."
He said: "The loss of income associated with this proposal will be funded from reserves during the 2019/20, with the recurring impact factored into future administration budgets."
The SNP's Grant Laing questioned the "urgency" of the issue. "This has been voted through twice by the administration, so how can it suddenly be urgent?
"They've known about this for more than a year. This isn't the first opportunity to sort this out."
SNP councillor Dave Doogan added: "It is a matter of deep regret that we are need to suspend standing orders to reverse a budget decision which could have easily have been retracted in a much calmer way.
"My concern is that we are setting a dangerous precedent that when the political realities of a budget decision catch up on an administration, they can call it urgent and a misunderstanding, suspend standing orders and turn the clock back.
"Doesn't that open the door to very flaky budget decisions going forward?"
While councillors voted unanimously to reverse the budget decision, the debate got quite heated. At one point, Liberal Democrat group leader Peter Barrett was forced to apologise for insulting another councillor under his breath.
Mr Barrett added: "I am pleased that this administration has sought at the earliest opportunity, following the budget-setting meeting, to rectify this issue.
"There has been press coverage that this is an embarrassment for the administration, and it's certainly been an uncomfortable morning for me, but I think the leader has put up his hands and taken responsibility and we are being upfront about that."
Councillors also voted to take £26,000 from reserves to provide targeted assistance to tackle food insecurity amongst disadvantaged families across Perth and Kinross.