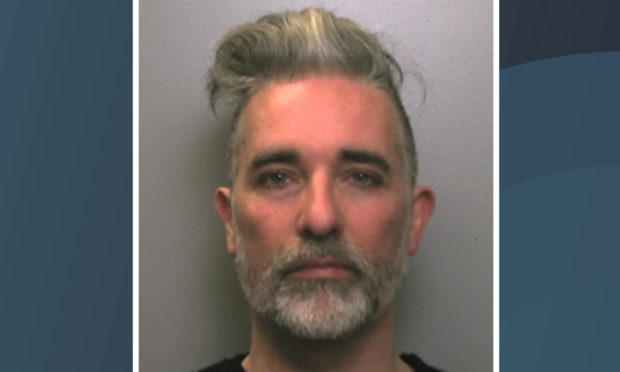 A man who sparked a nationwide manhunt after planning a suicide pact with a vulnerable teenager has been ordered to carry out unpaid work in the community.
Stuart Lymer, 45, was critically wounded during a bloodbath in a police van after officers failed to search the girl when they were traced heading to a remote Scottish island.
Perth Sheriff Court was told officers searched Lymer and recovered a knife but put him in the van with the girl while she was still armed.
The court heard yesterday that Lymer agreed to go ahead with the death pact in the police van and the girl slashed him across his throat before he had second thoughts.
The girl, who has escaped prosecution, then cut herself before the officers were able to intervene when they realised what the couple were doing in the van.
Sheriff Keith O'Mahoney told Lymer: "You have pled guilty to what is a serious charge – possession of a knife in a public place. I am persuaded there is an alternative to custody."
Lymer was placed under social work supervision for 12 months and ordered to carry out 120 hours of unpaid work in the community.
Solicitor David Holmes, defending, said: "They had resolved to go to a far-off place and took the decision unfortunately to end their lives. A Scottish island was suggested by the other party.
"The 17-year-old was not searched and they were placed in the police van. In the back of the van, the other person produced the weapon she had on her.
"Mr Lymer was still of the same mind as before and he said yes, and at that she struck him a severe blow across the neck.
"When she went to strike him with a second blow, from somewhere he realised this was wrong and defended himself. The girl attempted to hurt herself and cut herself."
He said Mr Lymer had been informed no action would be taken against the girl, despite her originally being investigated for attempted murder.
Lymer and the teenage girl were travelling together on a train from England when they were arrested by police officers outside Perth railway station.
The circumstances of the incident – which led to officers being suspended from frontline duty – were probed by the Police Investigations and Review Commissioner.
Lymer admitted having a knife at Perth railway station on March 5 last year.
Since the incident, librarian Lymer, from Uttoxeter, Staffordshire, has been jailed for four months in England.
He admitted taking a child away from their guardian or responsible person between March 2 and March 5 last year.