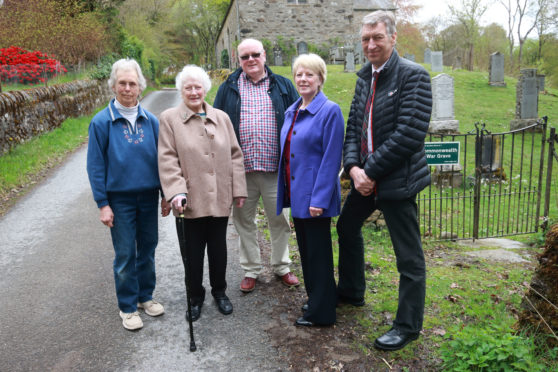 A young soldier from Killiecrankie who died in Germany in the closing days of the Second World War is to be honoured with a special plaque, more than 70 years after he fell.
Archie McIntosh is believed to be the only victim of the conflict from the area and until now the local war memorial has only commemorated the men who died in the First World War, including his uncle.
The stone, which sits in the grounds of Tenandry Kirk near the Garry Bridge, has no space left on it for additional names.
However, council bosses have now agreed to put up a plaque in Archie's memory following a campaign led by the Church of Scotland and a local councillor.
The move has been welcomed by his niece Evelyn, who now lives in Blairgowrie.
She began researching her uncle's history in response to an appeal by the Blair Atholl Quaich community newsletter.
"Someone at the church was trying to find people to commemorate and we contacted them," she said.
"It's a very nice thought, especially to be reunited with his uncle."
Born in Glenfarg, Archie moved to Killiecrankie as a child and was working in a butchers in Pitlochry when he was called to serve in the Second World War with the Royal Northumberland Fusiliers.
His family were notified of his death a month after his 19th birthday and just a month before the end of the war in 1945.
He is buried in the Commonwealth War Graves Cemetery in Hannover, not far from where he fell.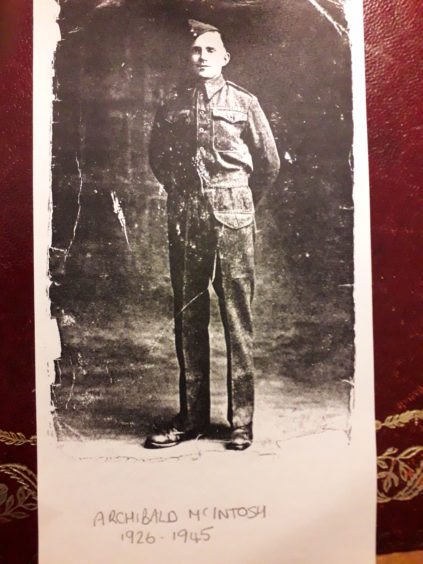 Archie McIntosh was killed a month after his 19th birthday, and a month before the end of the war.Evelyn said: "There's no room on the statue for any more names, but we're going to be getting a brass plaque beneath the list. It looks like it's only him that's going to be on it.
"We're hoping to get the plaque in place in time for the 80th anniversary of the start of the war, which is in September. It would be very fitting if we could do that.
"Perth and Kinross Council have kindly agreed to cover the costs, and the church are sorting it all out. We're looking forward to seeing the plaque once it's up."
Highland ward councillor Mike Williamson added: "It's really good to see this come together and it's great for Archie's family. I'm really grateful to the council for doing this."