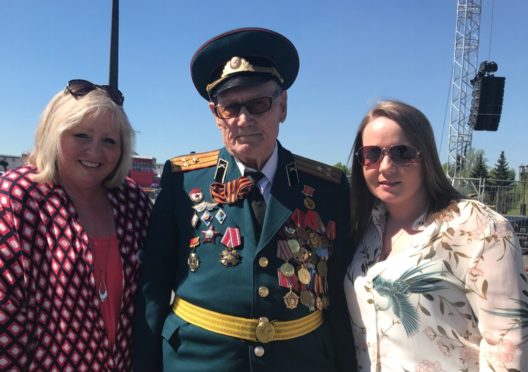 A Tayside woman is among a group of five from Scotland heading to Moscow to honour those who died in the Second World War.
Pamela Hunter, of Kinross, will be taking part in the march to remember her father John Burns, a veteran who took part in the Russian Arctic convoys.
And Pamela is not letting her own adversity get in the way — she uses an electric scooter after a recent accident, but will be joining an estimated one million marchers on May 9.
The March of the Immortals is an annual event on Victory Day in Russia as a way of paying homage to those who died in the Second World War.
John Burns was part of the convoys who transported food to the Soviet Union after Germany invaded the country in 1941. Thousands lost their lives in what Winston Churchill reportedly labelled "suicide missions".
Pamela said: "It was only after his retirement he talked about the terrible times during the convoy missions.
"The ships froze over and the seamen chipped ice off the ship hourly and removed icicles from their eyelashes and noses. All whilst being shot at by enemy aircrafts and U-boats that followed them and torpedoed the ships.
"If a shot hit, the convoys could not stop to pick the men out of the water. They had to carry on and leave the soldiers to perish in the freezing waters.
"The people and government of Russia are forever indebted to those who risked their lives to take supplies."
Pamela will take to the streets of the Russian capital wearing her father's medals and carrying his picture as part of service.
Joining Pamela will be her 18-year old niece Zara Habberley, Savannah Taylor, from Orkney, two staff members from the Russian Arctic Convoy Museum in Aultbea, Natasha Miles and her partner Nicky.
Pamela said: "As a daughter, I'm always trying to keep his memory alive and those men who fought and the 3,000 men who lost their lives in the missions across to Russia during the horrendous times.
"I was invited last year to Moscow along with four others by the Immortal Regiment to remember those from Scotland in the Arctic convoys. It was one of the most incredible emotional experiences of my life.
"You are welcomed with open arms. As soon as they know you are from Scotland and that your dad was a sailor in the Arctic convoy, people are so warm, so welcoming. I cried with many, many people. It was an incredible experience.
"We were in Moscow with our Saltires flying high and wearing Scottish Russian Convoy Museum jackets to tell our parents and grandparents how very proud we were to be representing Scottish veterans from the Convoys.
"They are and always will be our heroes."