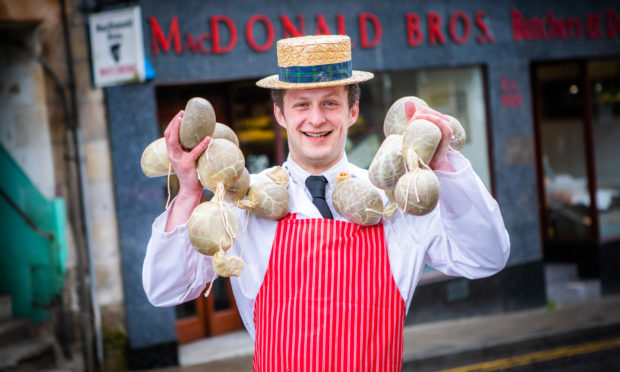 The World Haggis Eating Champion has found the perfect training ground after landing a job in a Perthshire butchers.
Alastair Ross, who can gulp down one of the offal snacks in just 47 seconds, returned to his apprenticeship after a gap of several years.
The 22-year-old won the hotly contested championship, which is held annually at Birnam Highland Games, in 2016 and 2018.
As part of the interview process for the position at MacDonalds Butchers in Pitlochry manager David Sime tasked Alastair with guzzling a haggis in less than a minute.
Since beginning work at the shop in March Alastair has doubled sales as cheerleader for the Chieftain on the Puddin' Race but admits he is not the biggest fan of it outside his championship efforts.
He said: "To be honest I only eat it once a year. I do like it but once a year is enough.
"I entered the competition the first year because it was a free meal and a free drink. When I won it I was the only local who had entered so I got forced to keep doing it.
"I'm hoping to keep my title this year. David forced me to eat one at my interview to see how quick I was, which is definitely the oddest interview request I've ever had.
"I don't have any specific training regime but working here I do get a roll every morning and that usually has some form of pudding on it."
Shop manager David said: "I tested him (eating haggis) in the shop to prove how fast he could do it and he's quite quick – it was under a minute, but he can do it in 47 seconds.
"He's got this wee plaque that he carries about with him and every time someone is looking in the window, where the haggis and black pudding is displayed, he'll go running up to show them and he gets a lot of people through the door doing that.
"He's selling a lot of haggis as well. We were making two big batches a week and we are now making about four a week."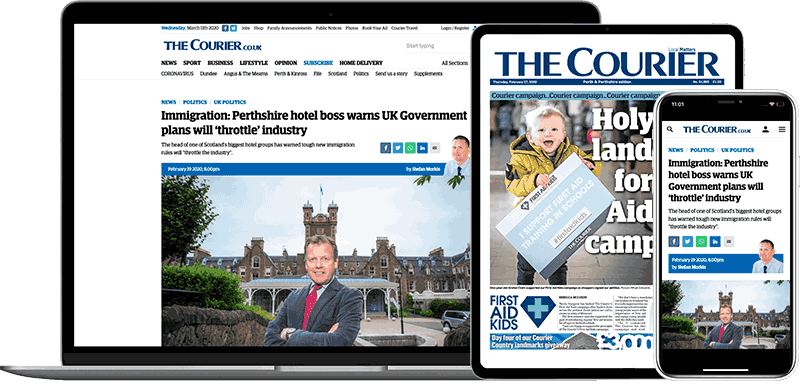 Help support quality local journalism … become a digital subscriber to The Courier
For as little as £5.99 a month you can access all of our content, including Premium articles.
Subscribe