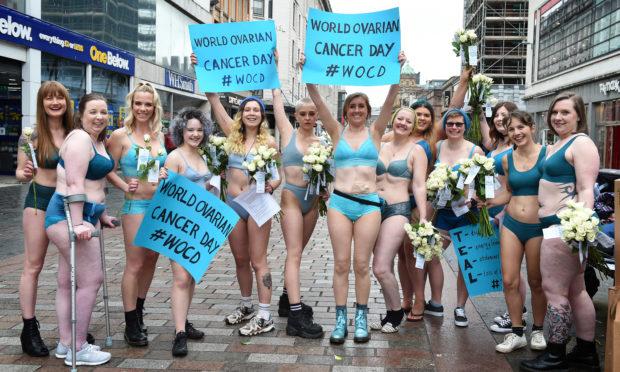 What drives a person to stand in a busy city centre street on a freezing spring day, wearing just their underwear?
Well, it's either an enlarged sense of exhibitionism or something altogether much more serious.
For award-winning Perthshire writer Fi Munro, it was most definitely the latter.
Fi, from Errol, was diagnosed with stage 4b ovarian cancer three years ago at the age of 30.
On Wednesday, along with 10 other women, she braved the grim weather and stepped out onto the streets of Glasgow wearing only teal-coloured lingerie.
Armed with banners, the women spent the day handing out white roses to passersby.
The stunt, organised for Ovarian Cancer Action, was aimed at encouraging people to talk more about their bodies without shame.
Around the same time, another Perthshire author Gordon Walker published a book about his wife's four-year fight with the same disease.
The novel explains how former journalist Seuna Walker went to extreme lengths to find a cure for the darkness that was destroying her from the inside.
Mr Walker said he wanted the book to offer support and guidance to others dealing with a devastating diagnosis.
Raising awareness of this deadly condition is vitally important and both Fi and Gordon should be applauded for preparing to step outside their comfort zones to warn and support others.
Catching the condition early is key, and that's why we need to break down all barriers that prevent taboo subjects like this from being discussed openly, without embarrassment.
Fi's campaign was the ice breaker many people would have needed, and its highly likely that lives will have been saved thanks to her and her friends' efforts.
Fi was inspired by a similar teal-tinged stunt staged by Canadian model Elly Mayday.
At the age of 25, Elly was facing a bright future as a plus-size model and was about to score a major contract.
But her world turned upside down when she was diagnosed with ovarian cancer. For years, doctors had been trying to determine what was causing her lower back pains and they hadn't even considered ovarian cancer, because it was, they reasoned, an old woman's disease.
Elly died in March. Increased awareness could have saved her.
Research by the charity Target Ovarian Cancer found that in some parts of the country, just 29 per cent of cases are being spotted early, when the disease is less likely to prove fatal.
Target Ovarian Cancer said too many women with the disease face repeat visits to their GP and delays in testing before they received a diagnosis and treatment. Symptoms include persistent bloating, pain in the stomach or pelvic area and back pain.