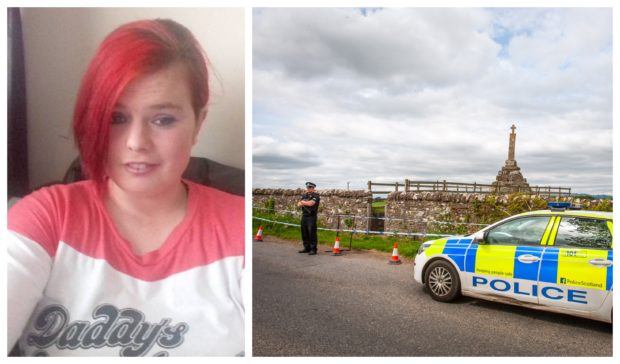 A CCTV camera captured a series of lights at the Maggie Wall witch memorial on the morning Annalise Johnstone was killed.
The footage, taken from a nearby house, showed a vehicle parked beside the notorious monument, near Dunning in Perthshire, for about half an hour in the early hours of May 10 last year.
As well as the headlights from the car, believed to be Angela Newlands' Ford Galaxy, the area is lit up with smaller lights believed to be torches or mobile phones.
Jordan Johnstone was spotted driving what is believed to be the same vehicle about an hour earlier in Dundee.
He was caught on camera buying a drive-thru meal at McDonalds, with a mystery person in the passenger seat.
On the first anniversary of Annalise's death, Detective Constable Keith Stockton told the High Court in Livingston he was tasked with gathering CCTV footage from key inquiry locations.
Film from around 100 cameras was analysed as part of the investigation.
"We carried out a trawl of CCTV across the area," he said.
"That involved police driving and walking along routes looking out for any cameras at private homes and businesses."
He said a series of clips taken in the early hours of May 10 show the Ford Galaxy being driven from Dundee to rural Perthshire, and then to Inchture.
The vehicle was distinctive because its front was bashed and part of its number plate had broken off.
Johnstone is seen driving the car into a BP garage forecourt in Kingsway, Dundee at 12.15am.
---
>> Keep up to date with the latest news with The Courier newsletter
---
He got out of the driver's door and went into the shop.
At the same time, the passenger door is seen opening and closing twice but no one else gets out of the car.
Johnstone is seen again, driving the Ford Galaxy to McDonalds at Camperdown Park.
The footage shows him ordering food and collecting it from the kiosk.
Asked by Depute Advocate Alex Prentice if he was able to determine who the front seat passenger was, DC Stockton replied: "Not definitively."
The court was told the passenger was female with dark hair, wearing a grey top.
At one point, she appeared to turn round to speak to someone behind her, over her right shoulder.
Police followed the car using CCTV from roadside cameras, businesses and properties.
Footage from a private address shows a vehicle arriving at the Maggie Wall monument just before 1.30am.
Over the course of half an hour, the lights intermittently switch off, intensify and are obscured by someone moving in front of them.
At one point, a figure leaves the car and walks towards the monument.
The court heard other lights, possibly from a phone, are also seen.
At about 1.45am, the car moves off but returns to the site after a minute.
Questioned by Mr Prentice if this is definitely the same car that Johnstone was driving earlier, DC Stockton said he wasn't sure.
He added there were no other vehicles on the road at that time.
The car leaves at 2am, but returns 23 minutes later.
DC Stockton said: "I observed a smaller light source which could be a torch or a mobile phone screen."
The car moves off again at 2.38am. The same vehicle is believed to drive back to Inchture, where it was filmed turning into Green Julian Place – where Newlands and Johnstone were staying – just after 3.15am.
DC Stockton said he was asked to check whether someone could be dropped off at a bus stop on the A90 and walk to Green Julian Place, without being spotted by CCTV.
He said he did this successfully in six minutes.
The trial before Lady Smith continues.