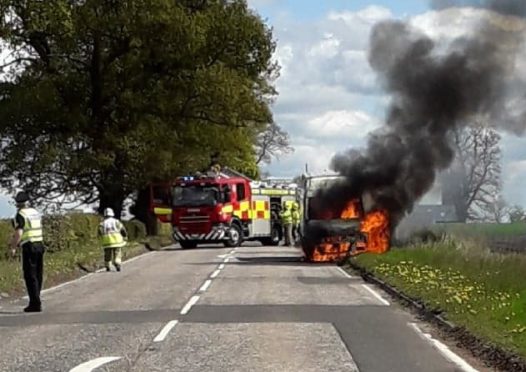 Emergency services rushed to eastern Perthshire on Saturday morning to secure the area after a van caught fire.
No one was hurt in the incident but traffic was delayed for more than half an hour as emergency services battled to extinguish the flames.
The Scottish Fire and Rescue Service received a call from the driver of the white van at around 11.15am.
It is understood that the driver and sole occupant of the vehicle had pulled up on the verge of the A94 about a mile east of Meigle when smoke began billowing from his vehicle.
One fire engine and police officers rushed to the scene and taped off the stretch of country road while firefighters hosed down the vehicle.
An SFRS spokesperson also confirmed that hydraulic cutting equipment was used during the incident and that the vehicle did not catch alight as a result of a collision.
A Police Scotland spokesperson confirmed that nobody was injured in the blaze.
The road was reopened by emergency services at midday when the flames had been extinguished.
An eyewitness said: "As I was travelling through Meigle on Saturday morning with no traffic in front of me I saw a plume of black acrid smoke rise.
"As I rounded the bend, I saw a van that was travelling west on the A94 sitting half on grass verge with black smoke pouring out of the vehicle.
"About 20 metres in front of the vehicle on the grass verge was a gentleman squatting, looking in shock at what he was seeing.
"I asked him if he was okay and he replied yes. I also checked if he had phoned the fire brigade, which he also answered yes too.
"He said there was nobody else in the van and that there was no cargo within the vehicle.
"As I was speaking to him, the van burst into flames and a short time later there was a loud bang which appears to have been tyre blowing out.
"Police cordoned the immediate area off, which blocked the A94 until the fire was extinguished and the area was declared safe.
"People travelling towards Forfar had the option of turning back and rerouting via Newtyle however those travelling West were stuck in a bottle neck for over half an hour whilst the emergency services dealt with the incident."