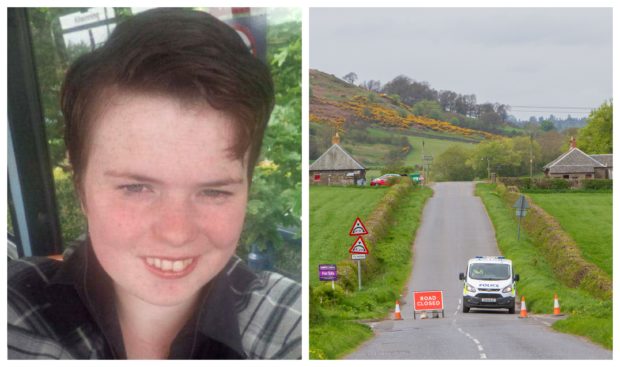 Murder accused Angela Newlands confided to her new lover that co-accused Jordan Johnstone turned up at her Perthshire home covered in blood and said he'd hurt someone.
Perth builder Martin Archer said Newlands, 28, had insisted she had nothing to do with Annalise Johnstone's death during "pillow talk".
But she told him she had helped Jordan Johnstone clean up.
As the trial against Newlands and Johnstone entered its second week, Mr Archer, 31, told jurors he had been in a sexual relationship with Newlands last year.
She told him Johnstone was never her partner, but she used him as a driver.
Mr Archer told police that Newlands had contacted him via the Facebook Messenger service in June.
In his police statement, he said Newlands sent him a private message saying: "Hey stranger."
He asked for her mobile phone number and called her back.
"I asked Angela what happened to the girl who was killed," he told police. "But she said it was nothing to do with her.
"She said that Jordan had turned up at the house in Inchture with the Ford Galaxy.
"She said it was all bashed. Jordan was covered in blood and he said he had hurt somebody, but he never said who."
The police statement continued: "Angela said she had helped him clean up himself and I'm sure she said they used bleach.
"They cleaned the car and burned his clothes and got rid of a knife at a park, somewhere in Ayrshire."
Mr Archer told investigators Newlands had told him this during a phone conversation and when they were together, describing it as "pillow talk".
"She said she was telling me this because she trusted me and she wanted to show how much she cared about me," he said.
"At no point did Angela ever say she was ever involved, other than helping him clean up."
He said: "One thing I did ask her when she told me all of this was: Were you there?
"She said no, she had been in Inchture and Jordan had come there in the early hours, covered in blood."
Under cross examination by Martin Stewart QC, representing Newlands, Mr Archer said she may have meant that Johnstone alone burnt his clothes and hid the knife.
Mr Archer said that he had heard that Johnstone was "off his head on steroids most days".
Cross-examined by Johnstone's QC Keith Stewart, Mr Archer said he was aware that Newlands had taken cocaine in April last year.
Earlier, the trial heard further evidence from Detective Constable Keith Stockton, who was in charge of gathering CCTV evidence.
He said that Newland's Ford Galaxy had been filmed travelling from Dundee to Dunning in the early hours of May 10.
DC Stockton said it was possible someone may have left the car at a bus stop on the A90, and walked to Newlands' home in Inchture without being spotted by CCTV.
The trial before judge Lady Smith continues.