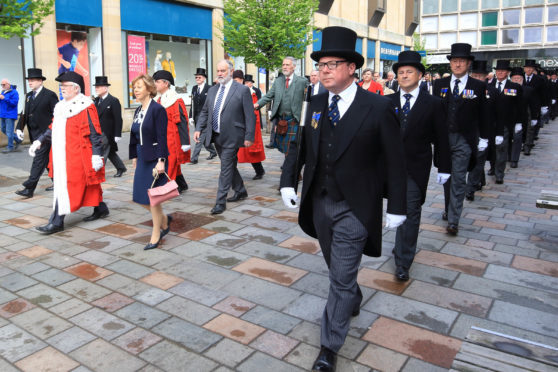 Perth and Kinross Council has been accused of "historic and cultural vandalism" over the decision to scale back a 400-year-old annual ceremony.
Pete Wishart MP and local history author Roger Ward have both attacked the local authority's agreement to downgrade the Kirkin' of the Council ceremony in Perth to a once in five year event in an effort to cut costs.
The procession, which brings crowds into the city centre each summer, involves local authority officers, elected members and dignitaries who march through the streets alongside the historic High Constables Society of Perth for a special dedication service.
The controversial decision to scale back the event will come into effect after this year's Kirkin' of the Council.
Pete Wishart, SNP MP for Perth and North Perthshire, has written to the council leader Murray Lyle and chief executive Karen Reid asking them to reconsider the move.
---
>> Keep up to date with the latest news with The Courier newsletter
---
Mr Wishart said: "The Kirkin' of the Council is part of our civic life in Perthshire and a fantastic day out for the people of Perth and the many tourists who come to witness this spectacle.
"It is an opportunity to see our unique Society of High Constables and enjoy what is good about Perthshire's traditions and history.
"It is simply historic and cultural vandalism to abandon this annual event and demote it to something we will only experience twice a decade."
Author Roger Ward, who wrote The Society Of High Constables Of The City Of Perth, also criticised the council's decision.
The writer, who acted as a High Constable for nearly 50 years, called the downgrade a "travesty of tradition".
Mr Ward said: "The sudden cancellation of the Kirkin' of the Council does little to inspire confidence in the common sense of our elected representatives.
"They claim to be considering other ways to recognise and celebrate the council's commitment to the community, but it seems the real reason is fiscal restraints which means saving money.
"This is always praiseworthy when it comes to public money but rings hollow when discussing a tradition going back for a very long time – and whose costs, by council standards, are surely petty cash."
Perth and Kinross Council reiterated that the ceremony will switch to a five-year cycle after this year's event in June.
A council spokesperson said: "Following a consultation with elected members, the Kirkin' will in future be held every five years, following local government elections.
"The Kirkin' of the Council remains an important aspect of the organisation's heritage, however alongside it, consideration is being given to identifying other ways to recognise and celebrate the council's commitment to the community, in conjunction with partner organisations."