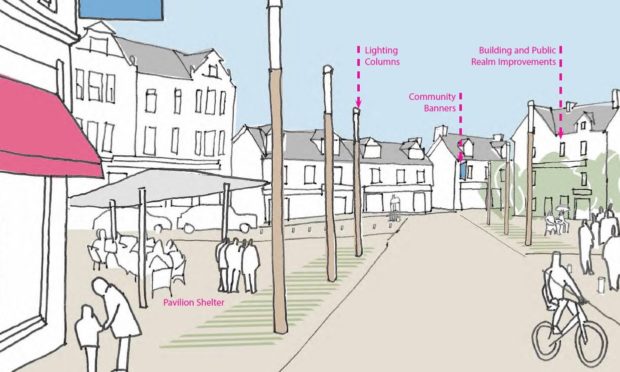 Council chiefs are under growing pressure to delay a planned million-pound regeneration of a Perthshire town centre.
Following four years of talks, work on the radical overhaul of Aberfeldy Square is due to begin next month.
Perth and Kinross Council wants to make the heart of the town more attractive for visitors and shoppers, while creating infrastructure for outdoor events. The move will also make the area "less dominated by cars" with drivers encouraged to park at the town's community campus.
However, the scheme still requires planning consent before work can begin as scheduled on June 10.
An application, submitted late after a mix-up at the planning office, has attracted objections from several local business owners, who are demanding construction is delayed until after the busy summer season.
Rod Munro, of Munros outdoor clothing and equipment store, has traded in the centre for more than 20 years. He said the timing of the work was critical.
"It is proposed that work should be carried out during the summer months to avoid potential issues regarding weather disruption during the winter.
"This is unacceptable because it will severely affect business during the crucial tourist season."
Mr Munro said the proposed loss of parking will also hit businesses.
"Many visitors and locals have told us they simply will not be willing to park at the extreme ends of the town, or seek unorthodox parking in other areas, such as side streets and residential areas."
Mehdi Ezzi-Irani, of CheCheks Restaurant, said a lack of parking will have a "seriously detrimental" effect on his business.
Victor Clements, chairman of Aberfeldy Community Council, has written a letter of support to planners, but urged them to keep disruption to a minimum.
"Along with the Aberfeldy Small Business Association, we have been involved in the development of these plans for a number of years, and we believe that they will transform the centre of the town, which is perhaps our greatest asset," he said.
"We are fully aware of the parking issue, and we know about the concerns with regards to timing of the proposed works."
He said that the parking issue is "manageable" but believes the "inevitable disruption" during construction work poses a challenge.
"However, we do think that by working round the square in rotation, with most of it open at any one time, that the construction can be made to work.
"We would ask that the council do all it can do to ensure that the project is properly supervised and that communications and liaison are of the highest order, particularly with the businesses and residents around the square itself."
Last month, local authority apologised for confusion over the submission of its planning application. A spokeswoman said "any adjustments to the project schedule will be made accordingly".