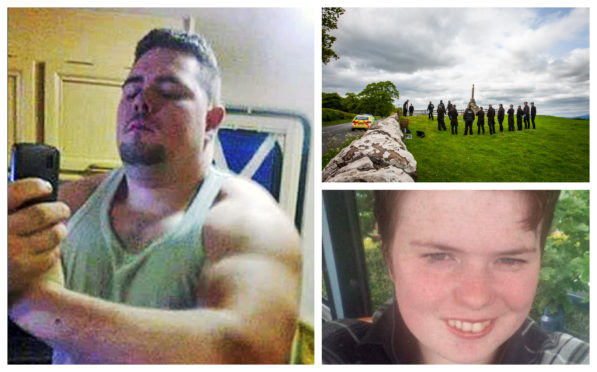 Murder accused Jordan Johnstone told a jury  he carried his dead sister "like a child" for nearly two miles along a darkened Perthshire road.
The 28-year-old said he left Annalise's blood-soaked body behind a drystone wall, because he was worried former co-accused Angela Newlands was going to arrange for the corpse to be chopped up and disposed of.
Giving evidence at on day eight of the murder trial at Livingston High Court, he said he wanted to put his sister's body somewhere it would be easily found.
And he claimed he agreed to cover up the killing, because Ms Newlands had threatened to report him to police for rape.
The trial also heard the "box cutter" used to kill Annalise at the Maggie Wall witch memorial – which has never been recovered by police – was hidden inside an empty Happy Meal box, and later buried in the Perthshire countryside.
Johnstone said it is still there today.
Ms Newlands, who was acquitted of murder on Wednesday, was found not guilty of the single remaining charge against her, an allegation that – alongside Johnstone – she had attempted to defeat the ends of justice.
Johnstone denies that he murdered his sister in the early hours of May 10 last year, and told the trial that Ms Newlands was responsible.
He said earlier that day he used the Ford Galaxy to pick up a caravan from Irvine, and drove it back to Ms Newlands' parents' home in Inchture. Annalise, Ms Newlands and Ms Newlands' four children were passengers in the seven-seater vehicle, he said.
When they got to Inchture, he put the caravan in the driveway before setting off to get food for the children.
"I'd said to Annalise if it wasn't too late, I would give her a lift back home (to Ardrossan) and she seemed fine about that," he said.
Johnstone said Ms Newlands suggested going to her house at Auchterarder – which had flooded, forcing them out, weeks earlier – to collect mail and clothes for the children.
Asked by Mr Stewart what state he was in, Johnstone said: "I was mentally exhausted, really tired."
He said after visiting the house at Auchterarder, they set off back to Inchture. Johnstone wanted Ms Newlands to drive, but decided she was too "stoned" and got back behind the wheel himself.
He said that Annalise and Ms Newlands were making "passive aggressive" comments to each other.
"It was starting to get worse between the two of them," Johnstone told the court. "Before, it was laughing and jolly, but Angela started to withdraw and that's when it started to get bad.
"It wasn't a full row, but they were winding each other up."
Ms Newlands began talking about the Maggie Wall witch memorial.
"Annalise was into witches and paranormal stuff, so she automatically jumped at the chance to go and see it."
Johnstone pulled up near the memorial and sat in the driver's seat, while Annalise and Ms Newlands went outside and after a few minutes, Ms Newlands got back in the car, Johnstone said.
"I hadn't seen her in that state before," he said.
"It was like she was someone else.
"I saw her holding a Persil soap pod. She burst two of them on her legs and was rubbing her hands with it.
"I asked: Where's Annalise? She said she's over there.
"She said: 'Everything got out of hand."
Johnstone got out of the car and walked to the memorial where he said he found his sister lying face down.
"I thought she was maybe knocked out," he said.
"I shook her and turned her over. I thought it was water on my hands, but I could see that it was blood.
"She was seriously struggling to breath, she was gasping for air."
Johnstone said he took off his T-shirt and tried to staunch the flow of blood.
He ran back to the car and told Ms Newlands to call an ambulance, before he returned to Annalise.
"I sat with her on my arm trying to put pressure on her," he said.
"My sister died in my arms."
Johnstone said when he told Ms Newlands that Annalise was dead, she said that "it was okay" and she would "sort it".
Johnstone said: "I went blank, I didn't know what to do.
"I thought an ambulance was coming. I was scared."
The court was told that Ms Newlands didn't call for an ambulance, but told Johnstone she would phone her father.
"After she told me her dad was going to get rid of my sister, I couldn't let that happen," said Johnstone.
"I said I would move her. I didn't want my sister to be chopped up."
He said he walked with Annalise along the B8062 to the stone wall, where she was found.
"I had her head on my shoulder, like you would hold a child," he said.
"I put her somewhere where I thought she would be found."
He said he didn't want Ms Newlands to see where he had taken the body.
They set off for Inchture in the Ford Galaxy, when Ms Newlands told him the knife was still lying at the Maggie Wall sculpture.
He drove back, collected the weapon – described as a extendable Stanley knife – as well as Annalise's phone and glasses.
The items were put in a McDonald's Happy Meal box, and Johnstone said he later buried them at the side of the Inchture to Errol road, where he burned two bags of clothes.
Under cross-examination by depute advocate Alex Prentice, Johnstone said he had told his lawyer where the weapon was but never told police.
Mr Prentice questioned the time it took Johnstone to carry Annalise about two miles to the roadside wall. He said it "did not fit" with CCTV evidence.
Mr Prentice said: "You told complete and utter lies about the death of your sister and the reason you did that was because you didn't want to face up to the ghastly crime of killing your sister."
Johnstone told jurors he agreed to help cover up the crime, because Ms Newlands threatened to accuse him of rape and child molestation.
Asked by Mr Stewart what would happen in Johnstone's close-knit traveller community if he was accused of molesting a child, he said: "Somebody would take my life."
The trial before judge Lady Scott continues.