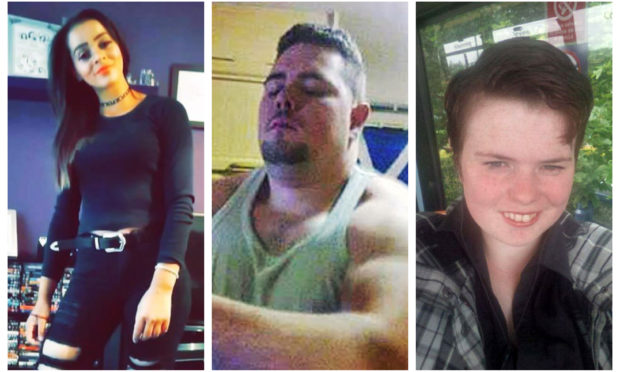 Jordan Johnstone dismissed claims he and Angela Newlands weren't in a relationship as "just lies."
And he revealed a tattoo of her name on his chest to show how he was once "madly in love" with her.
The court had earlier heard that Ms Newlands told police she was not in a sexual relationship with Johnstone, but that he had agreed to be her driver.
She told one officer she thought he was gay.
Self-employed builder and landscaper Johnstone said he got together with Ms Newlands on January 3 last year, and moved into her home in Auchterarder that night.
"I remember the date because it was two days before my birthday, and I remember we were both out celebrating that," he said.
Asked by QC Keith Stewart about Ms Newlands' claims they weren't a couple, he said: "It's just lies.
"Why would I give up working just to drive someone around for free?
"I was madly in love with her, but over time I began to see more of her true nature and that was putting me off."
Asked why he got Newlands' name inked on his chest, he said: "It was stupidity, but I was in love with her.
"She was supposed to get one with my name on the same day but the tattoo place had closed by then. She never went back."
Johnstone said that they were forced to leave the Auchterarder house at the start of April, after one of Newlands' four children left a tap running upstairs and flooded the property.
He said the house was uninhabitable, forcing them to move into temporary B&B accommodation.
Johnstone said he later paid for them to stay at Premier Inns and other hotels.
He said they spent "plenty nights" sleeping in Newlands' Ford Galaxy.
Asked about allegations he attacked his other sister Nadia Shabbana Johnstone, while holding a knife, in Coatbridge on May 6, he said: "I was holding a spare set of keys. It had a button that flicked the key up.
"It wasn't a knife, but it might have looked like one."
He admitted that he slapped Shabbana, but denied punching her.