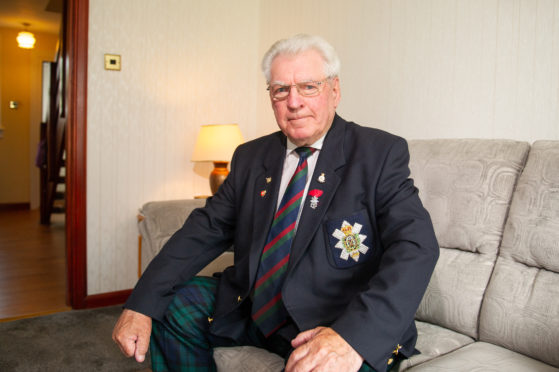 A Black Watch veteran has offered to buy a memorial plaque for soldiers killed during the First World War and donate it to a museum after its appearance in an online auction caused anger.
Jim Beedie, from Blairgowrie, said he was "disappointed" the item had been sold for profit after it fetched a £300 bid on eBay last week.
According to the listing, the plaque commemorating privates Michael Connaboy, Thomas Cullen, Peter Malley and Thomas Malley was removed from a tribute in Dunblane after a larger memorial was installed.
The item was listed as "WW1 Memorial Plaque Scottish Soldiers The Black Watch 42 Regiment".
Mr Beedie, who comes from a family of Black Watch soldiers, said he was prepared to match the price tag and donate the commemorative plaque to the regiment's museum in Perth.
The veteran, who served in the regiment from 1957 to 1967, said he hoped the buyer would come forward and take him up on his offer.
Mr Beedie said: "The Black Watch plaque being sold is ridiculous.
"It should never have been sold, it should have been put in the Black Watch museum.
"My grandfather, myself, my brother and my son are all Black Watch and I'm prepared to purchase it.
"I think it should be donated to the museum. I would pay the £300 for the sake of my brother and my grandfather.
"What's £300? The Black Watch means a lot to me. My grandfather was killed in the war so I wouldn't be doing it for my own gain."
Military historians have also hit out at the sale.
Scottish Military Research Group chairman David McNay said such items should not be put up for auction.
Mr McNay said: "The price was quite high and I don't think people should be making a profit from this type of thing.
"On the face of it something like that should be in a museum and not passed between private collectors away from the public."
The item was placed on sale in Forfar with the seller saying they wanted to find a "suitable place in order that more folk can see it".
In the description the seller wrote: "The plaque came from a memorial place in Dunblane, Scotland.
"It was removed in order to build a larger memorial which held more names of local soldiers who died in that war.
"The plaque has not been cleaned or polished and carries 100 years of wear and tear on its face. At least one of the young men was from the Black Watch.
"It also looks like two may have been brothers or related in some other way."