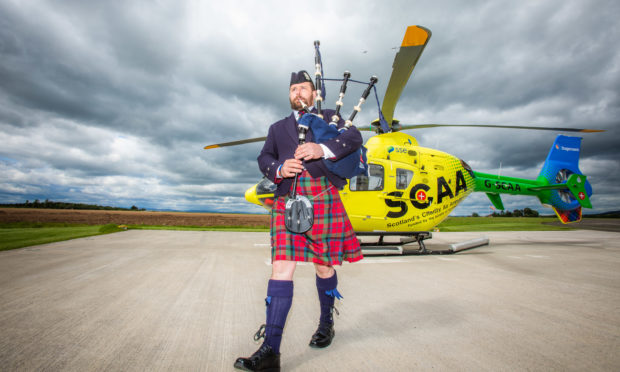 A Pitlochry piper has unveiled a toe-tapping march in honour of the work carried out by Scotland's Charity Air Ambulance (SCAA) paramedics.
Ross McNaughton, piping instructor at the Robert Gordon College in Aberdeen,  penned "Angels Of The Glens" in tribute to the crew Scotland's only charity-funded helicopter air ambulance service.
Ross, from Pitlochry, has been piping since he was six years old and is currently Pipe Major with the Vale of Atholl, Grade Four Development Pipe Band and a piper with The Atholl Highlanders.
The former Black Watch NCO Ross said he was "immensely proud" of the tune.
He said: "I've seen first hand the life-saving role of helicopters in my military and offshore careers.
"I know how the precious minutes gained by helicopter transfer and expert paramedic care can make the difference between life and death when time is running out.
"I've been a big supporter of SCAA since the service launched in 2013 and I wanted to do something special for them – something using my skills to honour their's. SCAA does an amazing job in Scotland and I just wanted to show them my appreciation in the best way I could. "
The result was Angels Of The Glens, which was premiered at SCAA on the charity's sixth birthday to an enthusiastic audience which included Scotland's Lord High Commissioner, The Duke of Buccleuch, who immediately requested a copy of the composition.
John Bullough, chairman of SCAA, expressed his delight and gratitude to Ross for "an incredibly thoughtful gift".
He said: "Ross has been a supporter of SCAA since day one and he proudly wears a black SCAA wristband in recognition of donating over £1,000 of his own money to the charity in our first year."
"SCAA is hugely privileged to have a composer and Pipe Major of Ross's standing and expertise pen a truly inspiring march in tribute to us.
"Now, with the gift of 'Angels Of The Glens', people will come to recognise our charity audibly as I'm sure it will become a firm favourite, picked up and played by pipers the world over."