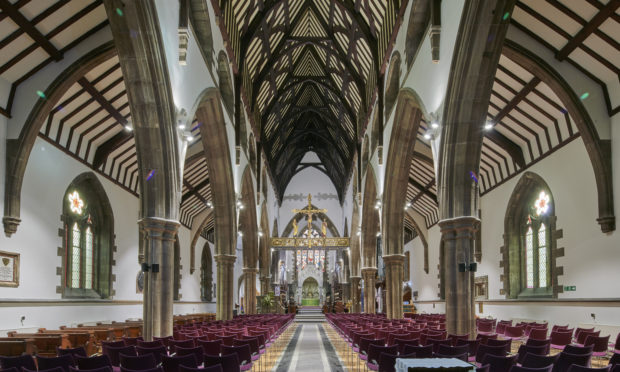 A family decorating firm has been short-listed for a major national award for their work in transforming a historic Perth cathedral.
Bannerman Decorators, based in the Fair City, have been nominated for Johnstone's 36th annual Painter of the Year Awards for their role refurbishing St Ninian's Cathedral.
Ewan Bannerman, a partner in the business, said work on the category A-listed building which dates back to 1840 had presented "major challenges" for the decorators.
"A great deal of time and effort went into protecting the impressive stained glass windows, ornate choir stalls, pulpits and various priceless and sensitive ornamental structures," he said.
"New lighting and a sound system for worship were also being installed.
"The cathedral could only be accessed by a single width door and our team was working 20 metres off the ground.
"Specialist machinery was required which cleared the door with only two inches to spare.
"That led to a few sleepless nights beforehand but fortunately our measurements were spot on.
"The contract itself was certainly testing as we had to dovetail with plasterers, electricians, joiners, lighting and sound engineers and then, finally, the organ tuners.
"As a long-established Perth business we are proud of the job, which has been much admired by visitors to the cathedral."
The Perth decorating business has already picked up the regional winner's title for their work on the cathedral and will now travel to Manchester to compete against 21 other finalists for the national award.
Ewan said: "We were delighted to be short listed for the UK awards.
"The quality of entrants from around the country was very impressive.
"The result of all this time and effort led to the decoration contract coming in on time, on budget and to the complete satisfaction of the client.
"A high quality finish was achieved using skilled, time-served tradesmen and high quality materials."
The Johnstone's Trade awards have also raised £6,000 for its charity partner, Prostate Cancer UK, through a number of fundraising activities.
Rachel Copley, head of marketing at Johnstone's, said: "The Painter of the Year Awards are an excellent opportunity to recognise, celebrate and reward the outstanding craftsmanship in the painting and decorating industry.
"The quality of the entries this year was phenomenal and it was a challenge to narrow them down to just 21 finalists."