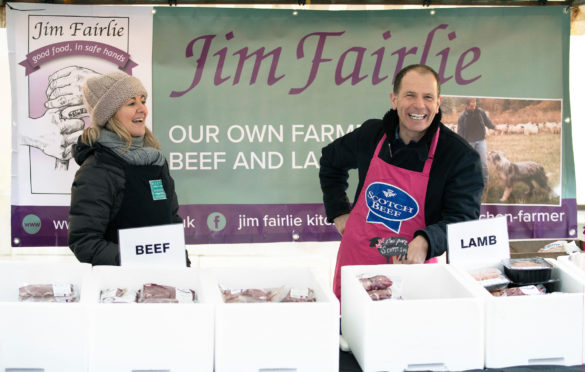 Perth Farmer's Market will celebrate its 2oth anniversary on Saturday with a birthday cake, tractor exhibition and more than 50 stalls.
The pioneering market, which was one of the first of its kind in Scotland, will be set up along King Edward Street and High Street, giving visitors a chance to sample and enjoy the best in local produce.
Launched by sheep farmer Jim Fairlie in 1996, the Perth market has gone from strength to strength over the last two decades, growing from around 14 stalls, which were mainly meat based, to the current offering selling a range of food products.
Adeline Watson, Perth Farmer's Market manager, said the event had helped to put the Fair City on the foodie map.
"We have fantastic local food and drink producers in the area, many of whom have used local produce to create a more international flavour," she said.
"There have been many changes in consumer behaviour over the years that the market has had to adapt to.
"Examples of this would be a far greater interest in where food comes from,whether it is ethically produced and how the environment benefits from the huge reduction in transport costs by using local producers .
"The market has also supported many small start-up food and drink businesses over the years and is proud of its 20 year track record in providing a cost-effective platform to help them get off the ground.
"We are constantly trying to look ahead and see how we can improve our offering in what is a very challenging retail climate at present."
As well as the usual stalls this month's celebratory event will see Perth and Kinross Council Leader Murray Lyle cut a cake to mark the occasion.
There will also be competitions and games.
Local MSP Liz Smith submitted a motion to Parliament in which she congratulated the team on their success.
Ms Smith said: "I must congratulate the Perth Farmers' Market on reaching this accolade and most especially on their wonderful support for top quality local produce and support for local rural communities.
"The market takes place on the first Saturday of every month, with between 45 to 50 stalls selling a variety of quality local produce.
"It has run since 1999 and remains one of the most popular food markets around."
The market will take place from 9am until 2pm with the cake cutting at 11.30am.