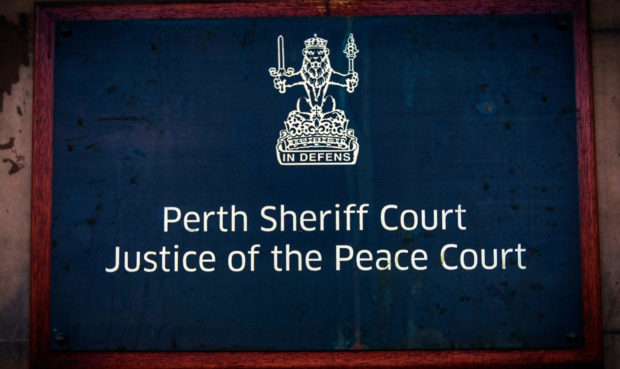 A pensioner who subjected his next-door neighbours to a sinister five-year stalking campaign is facing a ban on staring at them in future.
A sheriff yesterday told Michael Waters, 70, he would be made subject to a non-harassment order to try to make him leave his neighbours alone.
Perth Sheriff Court had heard neighbour-from-hell Waters left Robert and Lindsay Robertson living in fear during his bizarre hate campaign.
The trial was told Mrs Robertson became so distressed by Waters' odd behaviour that she ended up in hospital.
Sheriff Derek Reekie deferred sentence to consider the terms of a non-harassment order, saying: "I really despair about this."
He told Waters he had to change his behaviour and warned he could be jailed if he failed to do so.
Police were called out up to 20 times as Waters continually entered the neighbours' property uninvited and stood on his garage roof taking photographs.
After a trial spanning nine months and seven days of evidence, Sheriff Derek Reekie found him guilty of stalking the couple in Keltybridge.
He was found guilty of engaging in a course of conduct between August 4 2011 and November 1 2016 which caused them fear or alarm.
Waters, of Keltybridge, was also found guilty of causing Patricia Renwick, 65, fear or alarm by acting aggressively on various occasions from September 2015 to September 2016.
The court was told yesterday Mrs Renwick had put her house up for sale as she was desperate to move away from Waters.
Sheriff Reekie said: "Mr Robertson spoke of you 'trying to make your presence felt' after they moved in. Mrs Robertson described you as "a malevolent presence" – menacing her in intimidating fashion when she challenged you.
"They spoke to you entering their property without permission, ostensibly to carry out maintenance. Both said you became aggressive and abusive.
"You climbed over a fence and interfered with property. Both spoke to you looking in while up ladders or on the roof. You were standing on the roof taking photographs of their property.
"Mrs Robertson described your conduct as relentless. You were generally angry, intimidating and abusive. You wanted to encourage confrontation and escalation from there.
"Some of your behaviour could be described as bizarre. The length of time you were loitering on the roof gave me the impression it was more sinister than you would have me accept.
"I need to look at the terms of an order. It is an order I am prepared to make."