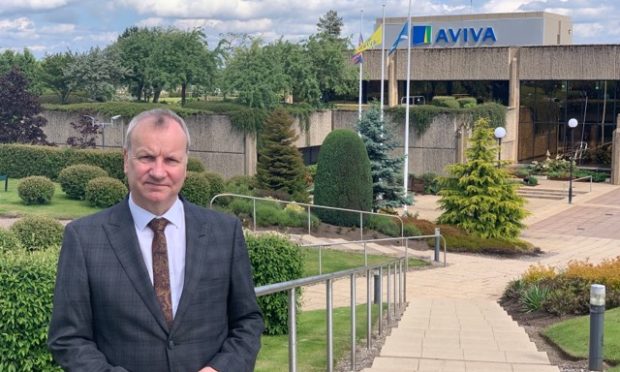 An MP has met Aviva bosses in Perth over redundancy fears after the insurance firm announced it was to axe 1,800 jobs worldwide.
The company, which employs around 1,100 people at their Pitheavlis building in the Fair City, announced the cuts on Thursday leaving staff members in shock.
Pete Wishart MP met with the distribution director for Aviva, David Skinn, to seek assurances about safeguarding jobs at the Perth site.
Mr Wishart said: "We know that Aviva are such an important local employer and I wanted to meet with management as soon as possible to talk about the importance of maintaining staffing levels here in Perth.
"Aviva have reassured me that as far as possible they will seek to achieve a reduction in posts through natural attrition and not redundancies.
"They are also keen to stress that any reduction in posts are group wide and they will not be targeting specific sites in terms of cost-savings.
"I know how important the Pitheavlis site is to Aviva and I do not doubt their commitment to their staff in Perthshire.
"I look forward to working with management, staff and unions going forward to secure these valuable jobs in Perthshire."
Perthshire Chamber of Commerce has also backed calls to retain staff at the Pitheavlis building.
The site is one of Aviva's claims contact centres and also houses teams that handle bank and building society partnerships.
Vicki Unite, Chief Executive, Perthshire Chamber of Commerce said: "We are shocked to hear that Aviva has announced plans to axe 1,800 jobs over the next three years.
"Aviva is one of the largest private sector employers in Perth, with around 1,100 staff and we can only hope that they manage to retain as many employees at the Perth base as possible.
"Job uncertainty will be a real worry for workers but we hope that Aviva do everything they can to minimise redundancies and keep staff as informed as much as possible."
An Aviva spokesperson said it was too early to say how many jobs at Perth would be axed.
She said: "We are looking at how each of our businesses across the globe will be affected. It's too early to say anything on the impact on Perth at this point.
"We will look to reduce the roles through things like natural turnover, not filling vacancies and people who might want to leave voluntarily."