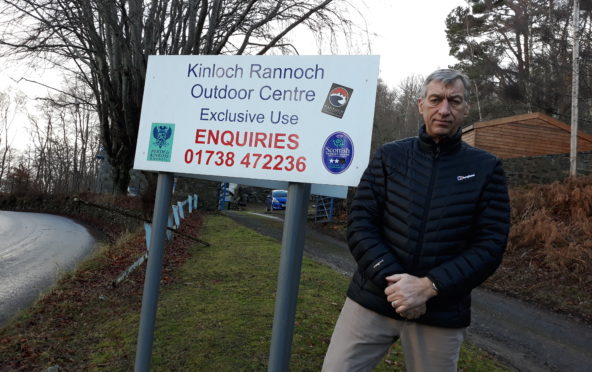 A pair of popular outdoor leisure centres will be shut down and sold off, council chiefs have confirmed.
The future of the facilities at Kinloch Rannoch and Blackwater, near Bridge of Cally, were thrown into doubt earlier this year after control was handed back to Perth and Kinross Council.
Next week, councillors will be asked to approve plans to sell off both sites at auction.
According to a Property Sub-Committee report, freak weather conditions – including the Beast from the East and the "very long, hot summer" of 2018 – led to trading difficulties.
Both centres were well used by schools and organisations from across Scotland bringing a tourism boost to their local economies. The buildings are expected to sell for more than £200,000.
For three years, the bases were under the management of Live Active Leisure (LAL), the charity that oversees sport and leisure activities for the local authority.
Mike Williamson, SNP councillor for Highland Perthshire, said: "It does seem like there's a mad dash by the council to get rid of these properties as quickly as possible.
"We need to ensure that we continue to support areas like Kinloch Rannoch, which seems to have lost a lot of services in recent years."
He said: "I hope that the sale of the centre will lead to something positive."
Local MP Pete Wishart added: "I am disappointed to hear that Perth and Kinross Council are planning to hastily sell off these great facilities.
"I don't think it is in the best interest of either community to just sell them off to the highest bidder, without a conversation about what the future holds for either of the centres."
In their joint report, Investment Manager Serge Merone and Estates and Commercial Investment Team Leader Kate Leer state varying weather conditions "affected the type of outdoor activities people undertook".
The report goes on: "Accordingly, LAL has now taken the difficult decision to withdraw from operating the outdoor centres and served notice to quit.
"Both properties are now considered surplus to council requirements and in line with current corporate asset policies, the intention is to dispose of the buildings to optimise financial, management and services benefits."
They add: "The council has, in recent years, successfully used auctions for disposals, having gained countrywide coverage and very competitive selling costs."
A LAL spokeswoman said: "There are currently ongoing discussions with the caretakers affected by the closure of Blackwater and Kinloch Rannoch. We are unable to comment on individual cases."
LAL gave up the running of the centres as part of the annual budget-setting process with Perth and Kinross Council. The charity needed to shave about £24,000 off its spending plan.
Members of the property sub-committee will discuss the report on Monday.