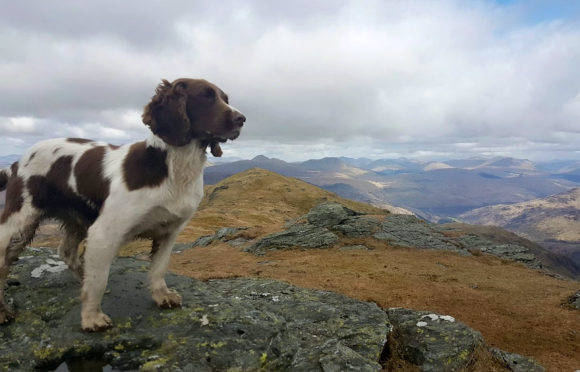 A Kinross dog and his ex-army owner have bagged 270 of Scotland's Munros together as they aim to scale all 282 by the end of September.
Genghis, a 10-year-old springer spaniel and his owner, Mac Wright from Milnathort, have been climbing Munros since October 2017, and even climbed seven in one day.
Last week they took on their most difficult ascent to date when they conquered Skye's  Inaccessible Pinnacle (In Pinn).
Mac adopted Genghis three years ago, after his previous owner died, and the pair have been Munro bagging ever since.
With his last owner, Genghis, a former working dog, climbed many Corbetts, some more challenging than Munros.
Genghis and Mac scaled In Pinn, a holy grail among baggers, with the help of their of climbing guide Adrian Trendall.
Mac said: "I am so proud of Genghis for bagging the In Pinn.
"He took it all in his stride and really enjoyed the challenge.
"His health and safety were always at the forefront of my mind as well as the team who helped get us up the In Pinn.
"This was probably our most challenging climb to date as it was technically difficult but with patience and expert guidance, we did it."
Adrian, who runs the All Things Cuillin Facebook page, said: "It was amazing to see the rapport between Mac and his ex-working gun dog.
"Genghis's health and safety was obviously paramount in Mac's mind and every hour we'd stop and Genghis would get a bowl of water and some canine food.
"As we headed into scrambling terrain, Genghis left us all standing as he powered onwards.
"Once at the ridge overlooking the In Pinn, the enormity of the task ahead of us was obvious as we watched people abseil the line we anticipated hauling our canine crag master up."
The group gently put Genghis in a tough, padded yellow bag to protect him from any contact with the rock and hauled the dog upwards.
Adrian said: "It was great to see Mac's huge smile as he topped the In Pinn."
Genghis is hoping to complete his Munro challenge on his 11th birthday in September, with a special climb at Sgor na h-Ulaidh, in Glen Coe.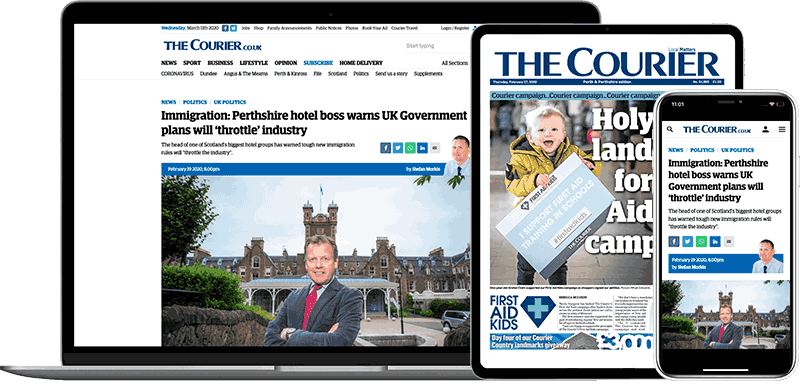 Help support quality local journalism … become a digital subscriber to The Courier
For as little as £5.99 a month you can access all of our content, including Premium articles.
Subscribe