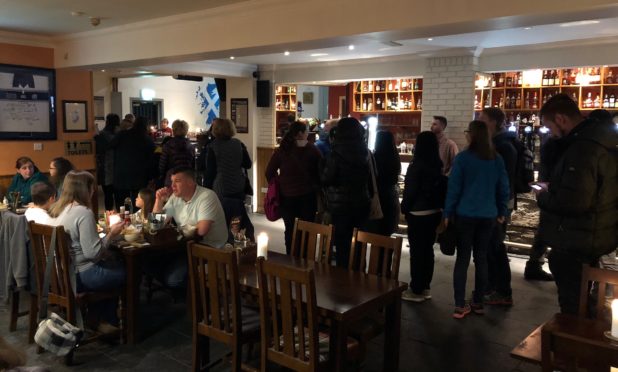 Council chiefs have been panned for a lack of facilities at a Perthshire tourist trap, leading to "embarrassing and disruptive" toilet queues at local establishments.
Businessman Richard Drummond, who runs McKays Hotel and Caffe Scozia in Pitlochry, signed up to a council comfort scheme to help the town cope with a lack of public loos.
But he has become frustrated with long queues of tourists snaking their way past diners and drinkers every evening.
Mr Drummond has joined a growing chorus of voices calling on Perth and Kinross Council to provide a better service for visitors.
He met local SNP MSP and Deputy First Minister John Swinney to raise his concerns.
"Historically both Caffe Scozia and McKays Hotel have allowed tourists to use their facilities and signed up for the comfort scheme," Mr Drummond said.
"Over the years the situation has gradually got worse. At times, it has become impossible to control and manage our businesses because of tourist demand for toilet facilities."
The council-run toilet block is open from 9am to 6pm and costs 50p to use. However, scores of tour operators make an evening pit-stop in the town on their way back to Edinburgh from Loch Ness.
Mr Drummond said that long toilet queues were causing a "disruptive, embarrassing" environment in both establishments.
"Some evenings in McKays we can have over 50 people queuing to use our toilets within a two-hour period," he said.
"This is impossible for my management team to cope with.
"The mess left behind at times is unbelievable and, again, is impossible to manage to the detriment of our reputation."
He said the most difficult times were during evening "pitstops" but said general daytime toilet visits had quadrupled in recent years.
"The simple fact is that tourism in Pitlochry has grown over the years and the public facilities have declined," Mr Drummond said.
"A town that prides itself in being a leading tourist destination is not looking after its many visitors and, at times, I am sure leaves poor memories and perception of our beautiful and picturesque town."
Mr Swinney said he will urge council chiefs to extend opening hours, or move them forward by half an hour from 9.30am to 6.30pm.
"The current provision of toilet facilities is clearly unsustainable," he said.
"It is not fair or plausible to expect local businesses to bear the brunt of 45-minute queues to use their lavatories, and nor is it a positive advert for Highland Perthshire."
Local SNP councillor Mike Williamson added: "These evening 'pitstops' are vital for the local economy, and provide a chance for tourists to discover our local businesses. These potential benefits are being minimised by the lack of available toilet facilities."
A Perth and Kinross Council spokeswoman said: "The comfort scheme partnerships which the Council has with businesses around Perth and Kinross have worked well for some time, providing additional public toilet facilities for visitors and residents alike.
"If any business that is currently in a comfort scheme partnership with us has a concern or issue about its operation, we would ask them to  contact us direct to identify how this could be resolved."
She added: "We have not been contacted to date by any premises in Pitlochry who are currently in the comfort scheme. We would always be keen to hear from any other premises in Perth and Kinross who would potentially be interested in joining the scheme."