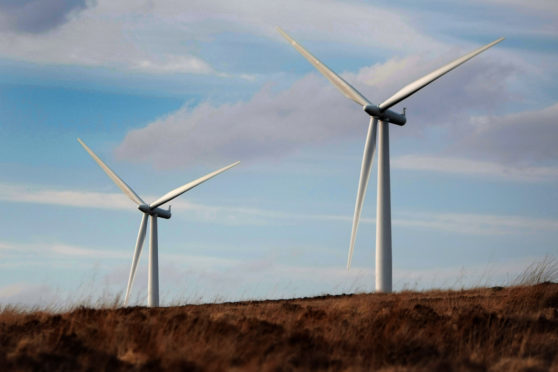 Developers have shelved plans for a hugely unpopular windfarm in rural Perthshire.
After a rollercoaster planning wrangle that lasted five years, ABO Wind has announced it will halt work on its 11-turbine Green Burn project between Alyth and Bridge of Cally.
More than 150 residents and groups objected to the scheme which would have seen turbines  bigger than Big Ben installed next to the existing 16-mast Drumberg site.
The plan was rejected by councillors in March 2017, amid claims the windfarm would deter visitors from coming to Perthshire.
But the decision was overturned by the Scottish Government in February the following year, after an appeal by the Belshill-based project leaders.
Now the company's head of development Clark Crosbie has announced the project has been put on the back burner.
In a letter to community councillors, he said: "Since February 2018, when planning consent was granted for the Green Burn wind farm, we have endeavoured to find a way forward to deliver the project.
"However, given current energy market conditions and the overall challenging environment in the UK for onshore wind, we have been unsuccessful in our efforts to find a viable route to market to complete the project."
Mr Crosbie said: "We have therefore taken the decision to cease further activities on the project at this time. Should further circumstances change and the market for onshore wind development in the UK becomes more favourable, it is possible the project could be delivered at that time."
He added: "We are disappointed in not being able to deliver the many benefits that Green Burn Wind Farm was expected to bring to the local communities."
It was expected that the project would have generated around £165,000 for groups and projects in the surrounding area.
Planning permission is set to expire in early 2023.
The John Muir Trust conservation charity was among those who opposed the project. Policy officer John Low had pointed out that there was potential for 65 turbines in the area around Green Burn.
Mount Blair Community Council had also objected. A spokeswoman said an increase in turbines would turn the countryside into an industrial zone.
"Providers of tourist accommodation are concerned about their occupancy rates," she said in a statement to planners. "With one hand, we as a community try to develop business and encourage tourism, but developers from outwith the area bring a project that will kill any efforts we work hard to develop."
ABO Wind's announcement comes just weeks after the Scottish Government knocked back plans for the 17-turbine Dulater Hill Wind Park, near Dunkeld.