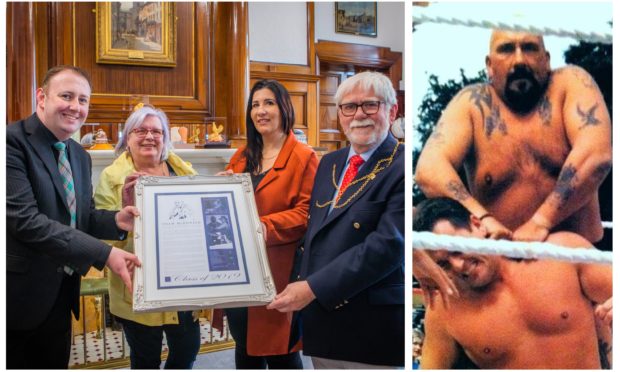 A celebrated Perth wrestler, known to legions of fans as the Highlander From Hell, has received a posthumous honour.
Drew McDonald was formally inducted into the Professional Wrestling Hall of Fame for Scotland at a ceremony in the Fair City.
Drew, who died after a battle with cancer in 2015, was represented at Monday's induction by daughter Debbie and life partner Monika Markwart.
He becomes the fifth member of the Scottish Hall of Fame, joining George Kidd, Andy Robin, Frank 'Chic' Cullen and Bill Ross.
Wrestling historian and hall of fame founder Bradley Craig said: "His many contributions to the professional wrestling industry have left an enduring legacy."
The youngest of five children, Charles Shaw – Drew's real name – grew up in Perth's Pomarium Street.
After serving with the Scots Guards, he helped a friend organise a professional wrestling show to raise money for a local school.
In the weeks leading up the event, one of the scheduled performers suffered an injury and a replacement needed to be front. He was given a two-week crash course before making his debut in a bout with the feared Wild Angus.
After wowing the crowds, Charles Shaw decided to adopt a new persona and Drew McDonald was born.
Over the next four years, he continued to wrestle on the local circuit, before signing up to Joint Promotions, the organisation that would thrust him into the spotlight.
His first televised battle, against Irish grappler Jack 'Flash' Shirlow was broadcast on ITV's World of Sport on April 28, 1984.
A few weeks later he teamed up with legendary Big Daddy to defeat Giant Haystacks and Dave 'Fit' Finlay.
Drew went on to wrestle on the international stage with bouts in Germany, India and South Africa.
A master of reinvention, he performed as The Ultimate Chippendale and – his most famous persona – the Highander from Hell.
Mr Craig said: "Despite a decline in popularity of British wrestling in the 1990s, Drew was one of the key figures who created the foundations for an eventual domestic resurgence of the industry.
"Alongside Jeff Kane, he established a gym to scout talent and train the next generation of wrestling stars."
Drew became the Scottish Heavyweight Champion, secured two versions of the British Heavyweight Championship between 2001 and 2006 and teamed up with Ulf Herman to win the FWA Tag Team Championship in 2002.
After winning two major European tournaments, McDonald quietly retired from active competition in 2012.
Among those who paid tribute when he died three years later, was wrestling star Paige, whose life story was made into the hit film Fighting With My Family.
Appearing during a bout with "RIP Drew McDonald" written on her forearms, she said: "He's the one who got me here, so that's only the littlest bit of what I can give back to him.
"I wanted people not to forget him. I wanted people to know his name."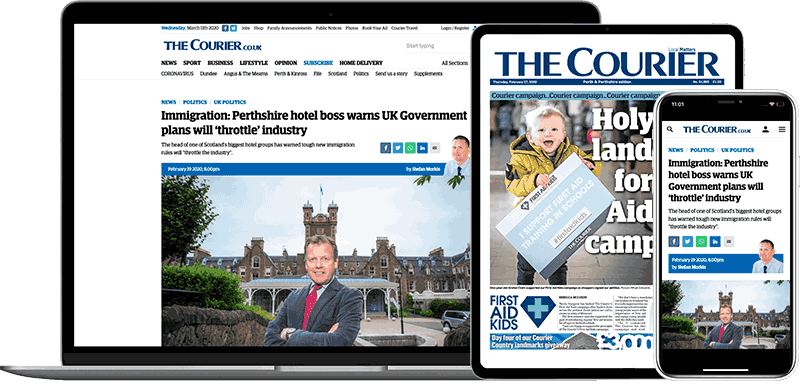 Help support quality local journalism … become a digital subscriber to The Courier
For as little as £5.99 a month you can access all of our content, including Premium articles.
Subscribe