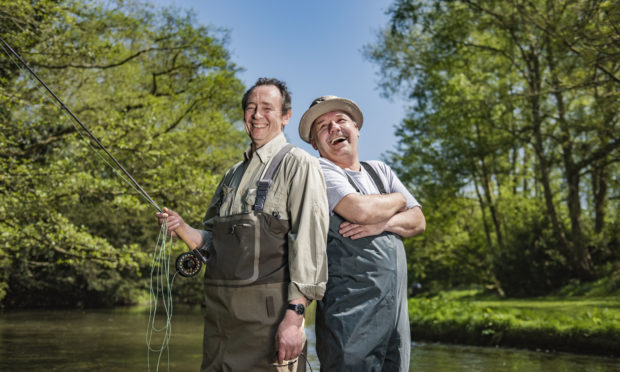 Two titans of British comedy cast off in Highland Perthshire while filming the second series of their hit fishing show.
Bob Mortimer and Paul Whitehouse have teamed up again for new episodes of the wildly popular BBC series.
The first series of Mortimer and Whitehouse: Gone Fishing, broadcast last year, followed the duo as they went on angling trips around the country, while both recovering from heart operations.
A second series was confirmed by the BBC in August.
Now the comedians have revealed they tried their luck on the River Tay at Dunkeld.
Speaking on the Adam Buxton Podcast, Mortimer explained how his visit to the Tayside beauty spot was an eye-opener.
He said: "You (Whitehouse) took me there last year and it was my first experience of Scotland.
"I know that most people will realise this – it's not news to anyone – but it is a beautiful country to look at."
He told the podcast: "It was lovely. We were out on a rowing boat. We were by a burial ground where Wallace killed a load of English soldiers."
He said: "The nicest things about the fishing is, one, being with an old mate and number two.. that I did not know how beautiful this country was.
"I'd never made the effort. I did when I was a kid, it was beautiful near Middlesburgh were I was born and we used to cycle out and get lost in the countryside.
"Fast forward 40 years and I'd never done it since. I was just passing places in cars or trains."
A date for the new series has still to be announced.
Whitehouse, who praises Scotland's "strong brand" during the Buxton interview, said last year: "The response has been a little bit overwhelming.
"We've had the most incredible messages from people who have suffered similar issues with their hearts or have had long-term illnesses and have found something in the series that has resonated with them.
"We're really pleased that people can see the joy that fishing can bring and I'm also very proud that people who wouldn't normally watch a fishing programme can enjoy the series too."
A book to accompany the show was recently published.