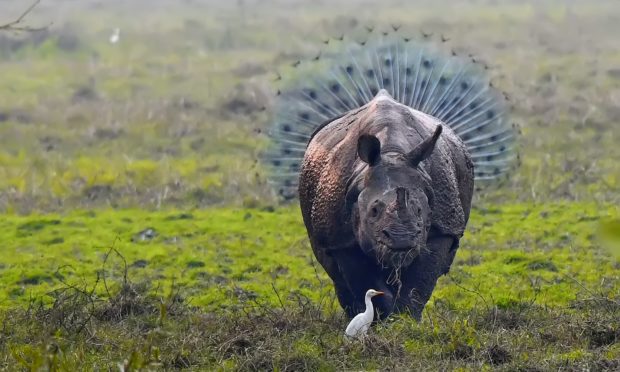 Award-winning photographs of funny moments from the animal kingdom will go on display at a new exhibition opening in Perth.
Yoga bears, tangoing geckos and flying hyenas will all feature at The Comedy Wildlife Exhibition which opens at the Fair Maid's House on Friday.
The exhibition, hosted by the Royal Scottish Geographical Society (RSGS), will showcase the current winners of the The Comedy Wildlife Photography Awards.
On top of provoking a few laughs the photographs, which can be viewed by donation to RSGS, will highlight the serious message of conservation.
The directors of the The Comedy Wildlife Awards, Paul Joynson-Hicks MBE and Tom Sullam, believe  the competition will encourage a positive and upbeat dialogue about nature and wild places in everyday spaces.
Paul said: "The Comedy Wildlife Photography Awards – ingeniously titled to avoid any confusion – was the result of two factors: a need for a light-hearted photography competition and a way to bring about conservation through competition."
The organisers hope that by "enjoying these images people might be more inclined to do more to preserve these precious assets for future generations".
Mike Robinson, chief executive of RSGS, said: "I hope this exhibition entertains our visitors – young and old – and inspires them to think more carefully about how we can all help preserve the wonder, beauty and positivity of the natural world for future generations."
The wildlife awards, which are now in their fourth year, are judged by world-renowned photographers such as Will Burrard-Lucas as well as famous faces such as naturalist Kate Humble and comedian Hugh Dennis.
The Perth exhibition will run from 1 to 4.30pm, Thursday to Saturday in June and 1 to 4.30pm, Monday to Friday in July and August.