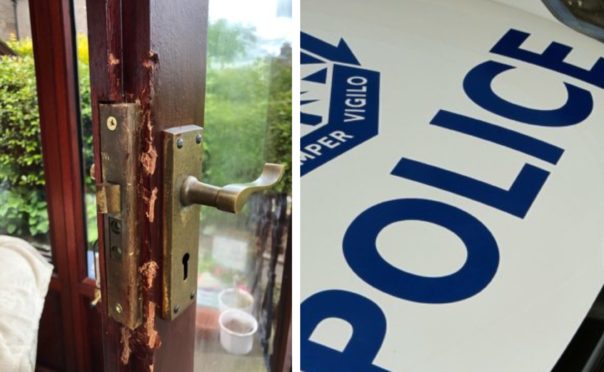 A victim of a spate of housebreakings in Perth's Craigie area has opened up about her trauma after her home was broken into by thieves in the middle of the night.
Five break-ins, spread across Wilson Street, Craigie Road and Young Street were reported to police between June 14 and Wednesday. The culprits made off with jewellery, mobile phones, laptops and cash.
Police have confirmed the thieves entered three of the homes while residents were asleep inside.
Officers have called for neighbours to send them CCTV footage to help with investigations.
One victim, who was asleep when her home was entered in the early hours of Sunday morning, has spoken out about the terrifying experience, on condition of anonymity.
She said: "The lock was broken on the conservatory door. I'm so annoyed that we slept through it. Bits of the draught excluder around the door-frame were found in the back garden.
"The police have been around to check the glass for fingerprints. They checked the display cabinet in my living room which the thieves had got at but they couldn't find anything. I think they'd have been wearing gloves.
"My son was coming to visit me and he'd only arrived on Friday. Fancy coming to see mum and this happens. If he wasn't there, I'd have been on my own."
The thieves took his three computers, iPad, iPhone, Apple Watch and wallet, as well as snatching the woman's iPad, which was charging in the kitchen, on their way out.
She said: "In the morning, I noticed my shopper was gone too. I think that's what they put everything in. It would have been like Christmas for them.
"My handbag and purse were found in the back garden, along with my sewing machine which must have been too heavy for them. There was still cash in my purse so I think they were spooked.
"We were both sleeping and didn't hear a thing. I got up at about 4am to go to the bathroom and I think putting the light on spooked them."
Following the incident, the woman plans to take measures to prevent another break-in, but says there's only so much she can do.
"I'm going to get a motion detector light installed at the shed in my garden now. If they want to get in though, they will.
"These are the first break-ins here for about 20 years. One of my neighbours a few doors along was also targeted.
"It really knocks your confidence. I'm so scared when I wake up now, I creep into the kitchen in the morning in case someone's there. It will be a while before I can get over it. I'm praying that the other people who were targeted weren't hurt."
A police spokesperson said: "Police Scotland is appealing for information after five break-ins to houses in the Craigie area of Perth recently.
"If you live in the area and have private CCTV, we would like to hear from you."