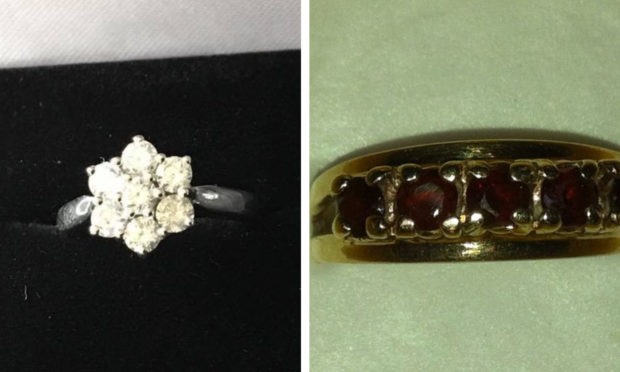 Thieves stole more than £10,000 of jewellery and electronics from a Kinross house as the occupants slept upstairs.
Police are appealing for information after the raid on Rannoch Place in the early hours of Sunday morning.
Among the massive haul with which the criminals escaped were two Oppo N3 data gathering devices, which cannot be purchased in the UK.
The thieves pilfered quantities of cash in a number of different currencies, including Euros and numerous African countries.
The homeowners' safe was taken, along with personal documents including a passport.
HP Spectre and Dell DD20 laptops, a grey iPhone 7, five gold rings mounted with precious stones, a silver ring and a pearl necklace and earrings were among the personal items stolen.
Police confirmed the total value of stolen property enters into five figures.
Officers contacted residents in the street on Sunday morning while they were gathering information for their investigation.
One neighbour said: "I think it happened between 2am and 3am. Police came around the doors on Sunday morning.
"My dog was up barking but that could be a coincidence."
Another added: "I think the thieves stole their car keys as well so the couple's cars were taken away on a transporter earlier to a safe place.
"They're a lovely couple, and they were in the house when it happened. I think the thieves used the side path.
"We've got a dog, so if they'd come into our house, we'd have known straight away."
The incident is the latest in a string of nighttime break-ins in Perth and Kinross, with three properties in Perth's Craigie area broken into while people slept upstairs last week. Two other houses were also raided.
A police spokesperson said: "Police Scotland is appealing for information about a theft from a house in Rannoch Place, Kinross, which happened between 2 and 8.30am on Sunday, June 23.
"The house was entered while the occupants were asleep upstairs, and a large number of items were taken, including a safe and its contents.
"If you have been offered any of these items for sale, know of their whereabouts, or have any other information that could assist our investigation, please let us know by calling 101 or speaking with any police officer.
"Also, information can be given 100% anonymously through Crime Stoppers on 0800 555 111. Our reference is crime reference number is CR/16201/19."