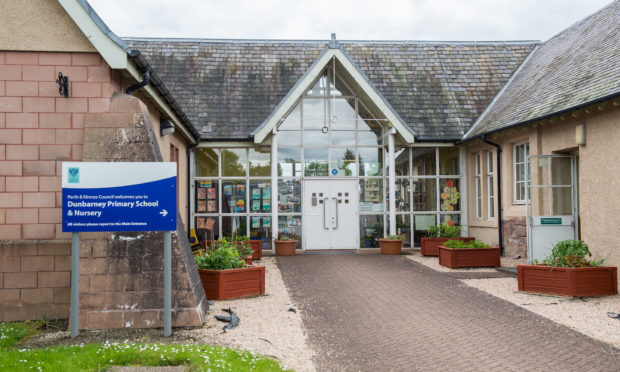 A Perthshire primary school has been targeted by vandals who threw stones and milkshakes at the windows.
Youngsters were spotted by local residents in Dunbarney Primary School playground throwing things at the school's kitchen and nursery over the weekend.
With seven weeks of summer holidays beginning at the end of the week, Bridge of Earn residents are being asked to keep an eye out for antisocial behaviour in the grounds.
An Earn Community Council spokesperson said: "As the school holidays approach now would be a good time to ask residents of the area to be watchful for vandals who cause damage to our local schools and playgrounds.
"At the weekend, youths were seen in Dunbarney School playground, throwing stones at the kitchen windows and pouring milkshakes on the nursery windows.
"There is no excuse for this behaviour and anyone witnessing this is encouraged to report incidents to the police."
Cameras were installed at the Main Street school in October 2017, following a spate of vandalism, including graffiti and damage to wooden outdoor furniture.
As a result, police patrols were stepped up in the area and Perth and Kinross Council had considered locking the school gates, which are usually left open outside of school hours.
Almond and Earn councillor David Illingworth has condemned the behaviour, saying it is undoing some of the hard work others are putting in to improve the village.
"It is deeply disappointing to hear any report of vandalism in Bridge of Earn and particularly at such a well-run school like Dunbarney," he said.
"I hope the miscreants are caught and made to understand how much work goes into making the school such a wonderful place for our young children, by the school and Dunbarney Parent Council.
"This vandalism is a shame because so many wonderful people work hard in other ways to make Bridge of Earn a fabulous place to live. I would urge parents to keep a watchful eye on what their teenagers are up to in the evenings, particularly over the summer months."
Dunbarney is not the only school in the region to have its premises blighted by hooligans in the last year.
Vandals ripped the wooden tables and benches from the ground at the Community School of Auchterarder in August and left broken bottles in the courtyard.
A council spokesperson added: "'We are aware of the anti-social behaviour that took place in the grounds of Dunbarney Primary School at the weekend.
"While there was some clean-up work required, no damage was caused as a result.
"We would encourage anyone who witnessed the incident or has information about who may be responsible to contact the police direct."
A Police Scotland spokesperson encouraged anyone who comes across antisocial behaviour to call 101 and report the incident.