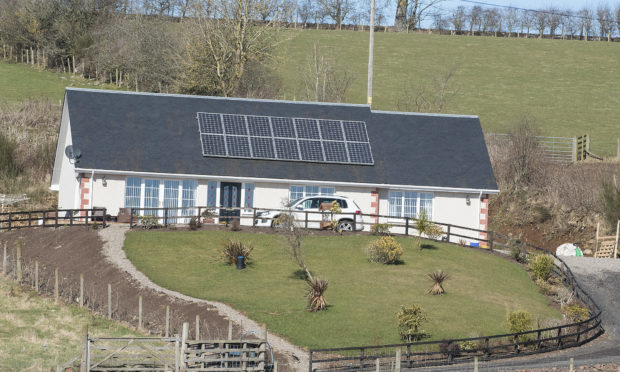 A businessman living in an illegally-built home in rural Perthshire has made a last gasp bid to save it from demolition.
Peter Brown, who has been ordered out of his three-bedroom property, claims his human rights are being ignored by Perth and Kinross Council.
Mr Brown and his family moved into the house near Blairgowrie last year, unaware it did not have planning permission.
Previous owner George Burke only had consent to build a shed on the site — a shed neighbours at the time complained "looked suspiciously like a bungalow".
In early 2018 the council took enforcement action, demanding the family move out, and turn the house into a shed.
Mr Brown lost an appeal against the order and the Scottish Government gave him 180 days to leave, or face prosecution.
A separate bid to convert the house into offices was also rejected.
Now, Mr Brown has lodged a new challenge against the council's enforcement order, claiming the local authority had known about the planning breach but failed to act.
He said the authority continued to collect council tax payments.
Solicitor Alan Seath, representing Mr Brown, questioned whether the council had "exceeded their duty as planning authority".
In paperwork lodged with Scottish Government-appointed Ministers, Mr Seath states: "Protocol one, article one of the Human Rights legislation protects the rights of an individual to enjoy their property peacefully.
"A pubic authority cannot take away property, or place restrictions on its use, without very good reason."
"The council should have struck a fair and reasonable balance between the appellants' interests as property owner and the greater interests of society, and the planning process as a whole.
"They have failed to do so in this case and the notice exceeds what is necessary."
Mr Seath continued: "The council has not made any effort to try and accommodate the appellants who will be homeless, or relocate their business if the enforcement notice is upheld."
He adds: "The (Scottish Government) reporter has the power to make a positive difference to the lives of the appellants as members of the Gypsy/Travelling community.
"It is submitted that there is scope to uphold this appeal and quash the notice."
The council has been asked by the government's appeals division to respond to Mr Seath's statement.
A local authority spokeswoman said: "We note the recent appeal by Mr Brown and will be responding directly to the DPEA on this matter.
"It should also be noted that local authorities have a statutory duty to collect Council Tax from residents, irrespective of planning status and that the council has taken appropriate enforcement action in a consistent and timely way in this regard."
Scottish Ministers expect to return a verdict in September.