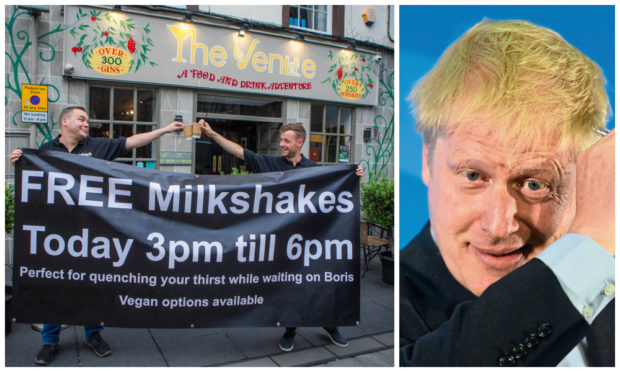 A Perth businessman intends to dish out 1,000 free milkshakes today as Number 10 hopefuls Boris Johnson and Jeremy Hunt arrive in the city.
The two prime ministerial candidates will be in the Fair City for their only Scottish hustings event at Perth Concert Hall.
The duo look set to face protests outside the 1,200-capacity venue, with pro-independence and anti-Brexit groups rallying supporters ahead of the debate.
Now Frank Burger-Seed, who runs Gringo's and the Venue, has announced the restaurants will be handing out milkshakes on Friday afternoon.
A statement on behalf of the businesses said: "To celebrate Boris Johnson coming to Perth, Gringo's Bar and Restaurant along with The Venue will be handing out free milkshakes throughout the day.
"Remember, please drink responsibly."
The offer comes after a series of incidents in which political figures, including Brexit Party leader Nigel Farage, English Defence League founder Tommy Robinson and UKIP election candidate Carl Benjamin,  have had milkshakes thrown at them by protesters.
Mr Burger-Seed said he would be handing out the drinks to keep respectful protesters cool and hydrated between 3.30pm and 6pm.
He said: "This isn't about being Tory, SNP, Lib Dem or anything else, it's about caring for our community.
"A no deal Brexit will be poisonous for Perth, Scotland and the UK. It will have a huge impact on us.
"We'll support anyone who is peacefully protesting and we're happy to keep them refreshed.
"It will be a hot summer day and we've got 1,000 milkshakes ready. There will be a vegan option too and of course all the cups and straws will be recyclable and bio-degradable.
"This isn't about who you support. It's about letting Boris know that his plans for a no-deal Brexit are not welcome."
The Courier contacted Conservative Party HQ for a comment but did not receive a reply.
Conservative councillor Murray Lyle, leader of Perth and Kinross Council, said everyone had a right to make a political statement, but he hoped there would be no incidents.
He said: "I'm disappointed that these restaurants are doing this. There's a fine line, and the staff must be aware that they are making a political point and not trying to encourage misbehaviour.
"Everyone has a right to make a political point so it has to remain in the balance of what is legitimate.
"I suspect that there will be a police presence outside the event and they will be prepared for anyone who tries to pull any stunts."
Police Scotland asked McDonalds restaurant staff not to sell milkshakes in the area around the Edinburgh Corn Exchange when Nigel Farage was addressing supporters at a Brexit Part rally in May.
Meanwhile, campaign groups Perth4Europe and Yes Perth City have both indicated they will be mustering at the Concert Hall ahead of the hustings, along with other protesters.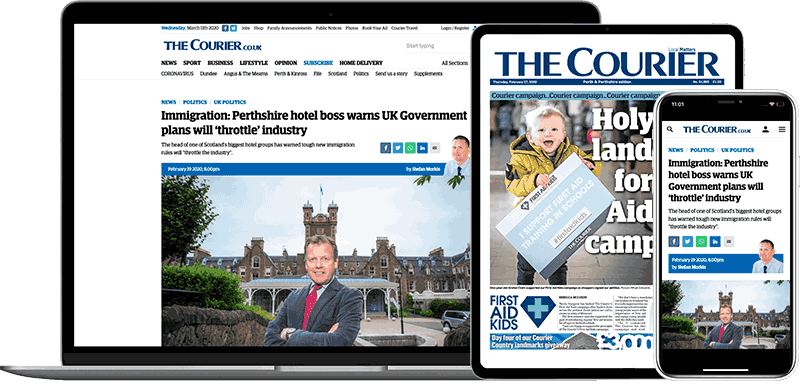 Help support quality local journalism … become a digital subscriber to The Courier
For as little as £5.99 a month you can access all of our content, including Premium articles.
Subscribe