Conservative leadership candidate Boris Johnson has made a play for the support of Scottish farmers while visiting the country for a hustings event.
The front-runner in the race to be Prime Minister pledged to end the "poor deal" delivered by the EU's Common Agricultural Policy, promising additional funding.
But SNP critics said a no deal Brexit – which Mr Johnson has promised to deliver by October 31 – will lead to large tariffs on lamb and beef.
They also said Mr Johnson had been a member of the UK government responsible for short changing Scottish farmers by £160 million.
Mr Johnson said the UK government had received extra money from the EU, known as convergence funding, due to the larger amount of poorer quality agricultural land north of the border, but did not pass on the money to Scottish farmers.
The Scottish Government has campaigned hard on the issue resulting in a UK government review.
Mr Johnson said: "For years, British farmers have been given a poor deal by the EU's Common Agricultural Policy – but it's clear that Scottish farmers have been particularly poorly treated.
"It's time that we stopped this. Once we leave the EU on 31 October, we will have a historic opportunity to introduce new schemes to support Scottish farming – and we will make sure that Scotland gets a better deal."
The candidate said Scottish farmers would receive an additional £25m per year if he became Prime Minster – the same per hectare farming payment as the UK average.
He also claimed the Scottish government would be consulted on ways to rectify the historical funding gap for farmers who have "lost out" on funding since 2013.
Industry sources suggested Scottish farmers working in areas with a large quantity of poorer land, for example hill farmers raising cattle and sheep, were fighting for more funding than the UK average to enable them to tackle the greater challenges of farming in these areas.
Pete Wishart, SNP MP for Perth and North Perthshire and chairman of the Scottish Affairs Committee, said Scottish farmers would be "horrified" at the prospect of a Boris Johnson premiership.
He said: "If Boris leads us off the no-deal Brexit cliff edge, our lamb exporters will see an immediate tariff of 67% and on beef it would be 85%. Farmers in my constituency are rightly worried about what this would mean for their competitiveness in a global market.
He said the UK government had "already done Scottish hill farmers out of £160m of convergence funding."
"I think most farmers will see right through Boris' latest 'promise' to farmers. As someone who has never previously shown the slightest interest in Scottish farmers, the last thing our agriculture sector needs is Mr Johnson as Prime Minister," he added.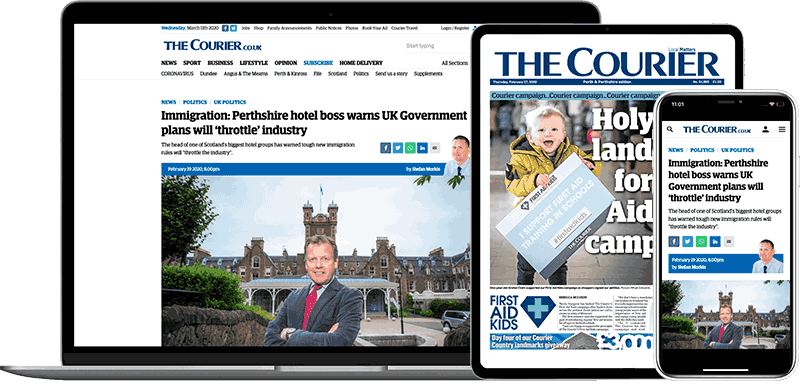 Help support quality local journalism … become a digital subscriber to The Courier
For as little as £5.99 a month you can access all of our content, including Premium articles.
Subscribe