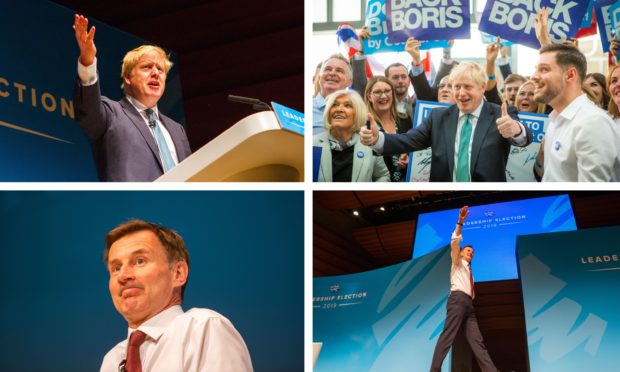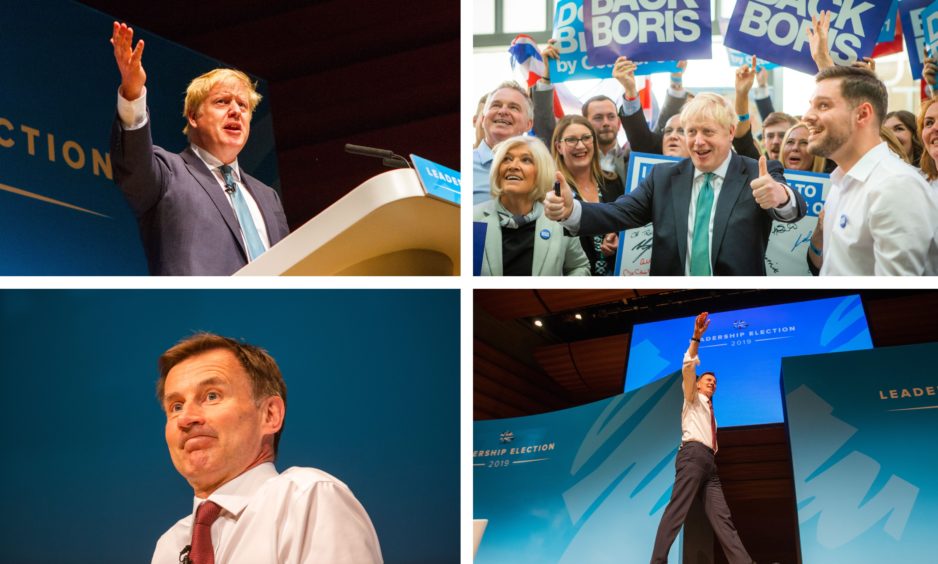 The Conservative leadership candidates have pledged to defend the union and boost the Tayside region economy as they strove to win over party members in Perth.
Hundreds of Conservatives from across Scotland travelled to Perth Concert Hall to hear Boris Johnson and Jeremy Hunt set out their stall as potential prime ministers.
Both sought to reinforce their Scottish links after Mr Hunt met with party members in Perth's Royal George Hotel and Mr Johnson visited BAE systems in Glasgow to meet apprentices building HMS Glasgow.
Boris Johnson focused on key local industries ahead of his appearance on stage.
He said: "Angus, Perthshire and Fife are the breadbasket of Scotland. It is vitally important that as we leave the EU on October 31 we ensure our farmers get a better deal.
"For the whole region it is vital that we dial up the Tay Cities Deal and turbocharge the economy of Scotland's east coast."
Perth Tory hustings: Boris Johnson and Jeremy Hunt avoid large crowd of city protesters
He promised he would ensure a fairer deal for agriculture by "addressing the discrepancies" which have led to £160m of EU funding, known as convergence, not being distributed to Scottish farmers.
Mr Hunt told the audience about the two years of his childhood he spent living in Scotland while his father was stationed at Rosyth, before highlighting Scotland's potential to be a "green silicon valley".
To cheers from the floor, he said: "I will defend our precious union with every drop of blood I have."
In a bad-tempered exchange at the end of the hustings, Mr Johnson again refused to answer questions about his private life.
Party member Flora asked him from the floor if it was important to be a good "husband and a father". Mr Johnson replied he "didn't comment on that stuff".
Many members waiting for the event to begin said they were still undecided even as they started to receive postal ballots.
Trevor Knowles, a financial advisor from Dumfries, said he was hoping the event would help him to make up his mind.
He said: "What I'm looking for is a bit of honesty. A lot has been said, much of it overblown. I want to know what the candidates' attitude to Scotland is as I don't think either of them have given it enough attention yet."
Perth Tory hustings: Jeremy Hunt 'likes milkshakes with a burger but not as a projectile'
Craig Hoy, an East Lothian councillor, attended the meet and greet with Mr Hunt earlier in the day.
He said: "Boris is a big character in politics, and in the party, and as a result of that we can all benefit, but we are looking for someone who is mindful of the union and the importance of that."
Opinions remained divided after the event.
John Leith, Haddington, said: "Jeremy Hunt is still a remainer. That's the problem. We've had three years of that and it got us nowhere."
Luke Rodgers, a law student in Aberdeen, said: "I still don't know. Do you go with Jeremy, who is a good operator, or Boris, who has the charisma to win an election?"
Police shut Mill Street to traffic and protesters began gathering outside the building from around 5pm.
Margot, who did not wish to give her surname, from Spain, said she had been living in Perthshire for the last 40 years.
She was standing behind a placard reading "No War in Europe Since 1945 Thanks to EU".
She said: "If there is a no-deal Brexit then we have no guarantee we will be allowed to stay in the country.
"There are only 160,000 members of the Conservative party and they are going to choose the next prime minister of the country, and they say the EU is undemocratic."
SNP member Carol Mair, from Methven, said she had travelled with all of her family to protest at the candidates' appearance in Perth.
"I have come to make it perfectly obvious to the Scottish Tories that is it is disgraceful they are the only ones getting a say in who will become the next prime minister.
"It is totally unacceptable."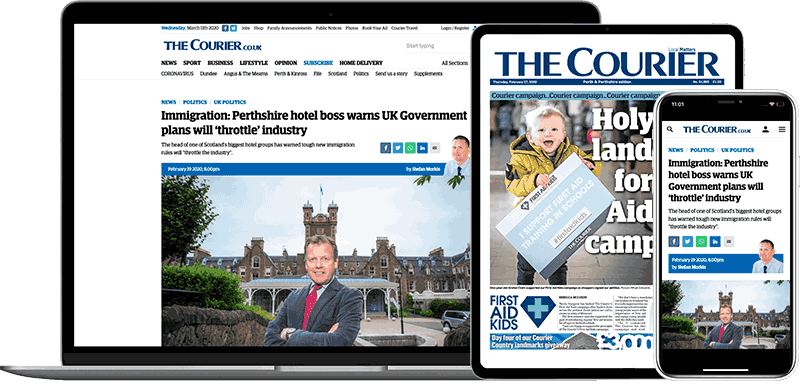 Help support quality local journalism … become a digital subscriber to The Courier
For as little as £5.99 a month you can access all of our content, including Premium articles.
Subscribe