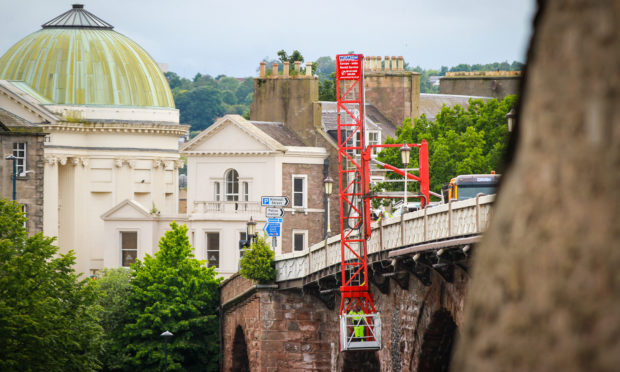 Council bosses have launched a second attempt to install iron cast bollards on an historic Perth bidge.
The River Tay crossing was shut down for two weeks earlier this year as part of a "vital" scheme to safeguard the historic structure.
Engineers were tasked with planting a series of metal posts to prevent cars mounting the kerb and causing irreparable damage.
But the work was abandoned when crews found the depths below the pavement "were not as drawings of the bridge had led us to believe".
Now Perth and Kinross Council is making a fresh bid for the £75,000 project. The local authority is inviting companies to bid for the work which will, according to the contract notice, involve excavation, cutting and removal of hard material, as well as installing a concrete strip foundation behind the kerb before putting the posts in place.
Businesses have until the end of this month to register an interest.
The overnight work – which will require a single lane closure – is expected to last for four weeks. No start date has been set.
The new contract has been released as separate work gets under way on a £300,000 upgrade of the bridge's lights.
The crossing will be partly shut each night for the next eight weeks. The work involves a replacement of its 30-year-old lamp-posts.
The closures, from 7pm to 7am, will affect all traffic travelling into Perth from Bridgend, and all Perth-bound traffic will be diverted via the Queen's Bridge.
Explaining the importance of the bollards plan earlier this year, Perth City Centre councillor Peter Barrett said: "The work will prevent traffic on Perth Bridge from mounting the footway, which may not have been able to bear that load.
"For some months, emergency vehicles have diverted blue light journeys to the Queen's Bridge to avoid such a risk."
The local authority has secured two Listed Building Consent applications for the work.
In a report to councillors, a planning spokesman said: "A recent survey of the bridge structure has concluded that the footway structure is sub-standard for the current permitted levels of loading."
He said the bollards would "safeguard against potential failure in the future".