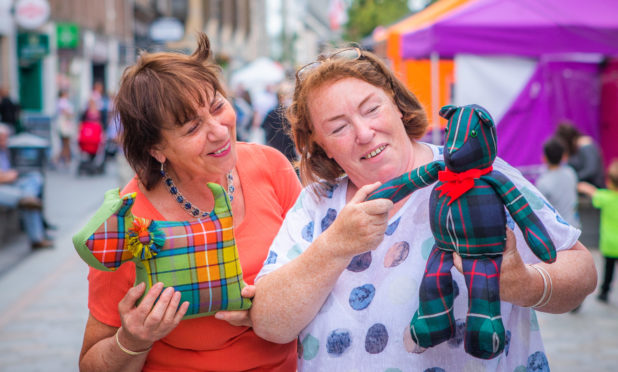 Tartan dogs and teddy bears are helping provide lifeline support to families of children at Great Ormond Street Hospital.
Erica Ritch, from Broughty Ferry, creates toys, wall hangings, gifts and all sorts of household goods using unwanted and second-hand kilts, tweeds and fabrics.
Proceeds from her handiwork goes towards supporting parents and grandparents visiting loved ones at the UK's biggest children's hospital.
She began fundraising – under the name Ritch Pickings – 10 years ago, when her granddaughter Madison began received treatment for an ultra rare chromosome disorder.
The youngster, who lives in Salisbury, was diagnosed with Distal 18q deletion syndrome and has been in and out of hospital all of her life.
"I live so far away from her, what is a grandma to do?" she said.
"I know from personal experience that it can be expensive for struggling families travelling down to see their children and grandchildren.
"What we do can can help pay towards accommodation, but it also helps with the little things like overnight bags. It can be small things like that which make such a difference when you're going through a difficult time."
Madison, 10, is doing well and enjoying school, said Erica.
"Whenever Madison goes into Great Ormond Street, I like to be there for her," she said. "So I know that simple stuff like toothbrushes and toothpaste can be a real help.
"You can face the world better the next morning if you're able to freshen up."
Over the years, Ritch Pickings has made more than £10,000 for GOSH's parents and grandparents' area.
Erica's stall was one of the biggest draws at Perth city centre's continental market, which launched for a four-day run on Thursday.
"We get donations of tartans and fabrics from all over," she said. "Sometimes we'll get from old kilts from local families, and some of it will come from shops and outlets.
"We can use it to make all sorts of things. Our dogs and teddy bears sell really well, and people also things like key fobs and pictures
"We even take requests, like the woman today who asked for tartan for a pair of socks. We get a lot of interests from tourists from all over the world."
She said: "We have met so many nice people over the years and the feedback we have had from folk in Perth today has been amazing."
To learn more about the charity, email ericasritch@aol.com