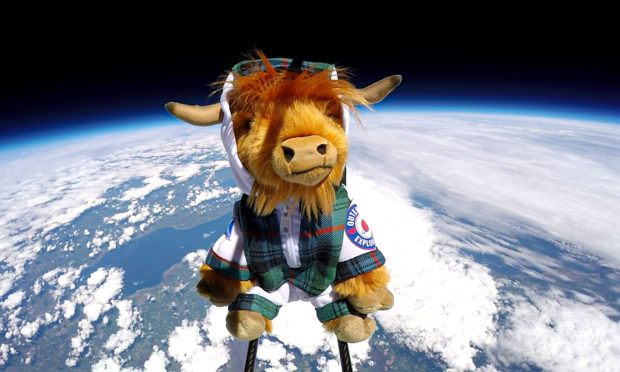 A Dunblane youngster has helped launch a stellar new tourism trail that celebrates Scotland's link with the Apollo 11 moon landing.
The Scotland Is Out of This World guide is part of a new VisitScotland campaign and aims to establish the country's crucial role in space exploration.
To celebrate the new project, the world's first "Highland Coosmonaut" was launched into near space.
The mascot cuddly toy soared more than 36,000 metres into the earth's atmosphere, wearing a Neil Armstrong-inspired tartan spacesuit. He was named BuzzBò by seven-year-old Peter Lunan, from Dunblane. The name comes from Buzz Aldrin, the second man on the moon, and Bò, the Gaelic word for cow.
BuzzBò lifted off from Gilnockie Tower, the ancestral home of Clan Armstrong, and landed safely near Cranshaws in the Scottish Borders.
The new guide details Scottish connections to each planet, as well as fun facts and details of science centres and where's best to stargaze.
Fowlis Wester Church, near Crieff, is highlighted for its display of MacBean tartan which US astronaut Alan Bean – the fourth person to walk on the moon – carried with him on the lunar module in 1969.
Also mentioned in the new map is the Highland village of Glenelg, which in 2012, twinned itself with a geographical feature on Mars, also called Glenelg.
Loch Airigh, on the Isle of Harris, is noted for its portrayal of Jupiter in the 1968 Stanley Kubrick masterpiece, 2001: A Space Oddyssey.
The campaign marks the 50th anniversaries of the Apollo 11 mission and VisitSctoland, which also launched in 1969.
VisitScotland chief executive Malcolm Roughead said: "For 50 years, VisitScotland has helped position Scotland as a must-see destination to audiences across the world.
"It is therefore fitting that in our anniversary year, we set our sights even further and travelled into space in what can only be described as a truly 'out of this world' campaign."
He added: "The new trail reveals some of the country's stellar attractions and locations to visit to firmly cement Scotland's place in astro-tourism.
"After all, our best views aren't confined to our awe-inspiring landscapes, but reach up high into the night sky above as well."