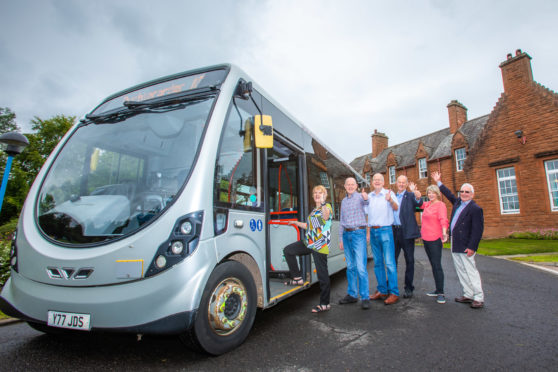 A Perthshire community group is gearing up to launch a new bus service in Auchterarder next month to combat transport issues in the town.
The Auchterarder Community Bus Group (ACBuG) has announced the service will commence on Monday August 5.
It will be operated by Docherty's Midland Coaches and will support elderly, sick, disabled and isolated residents by improving their access to local services and amenities.
Local SNP councillor Tom Gray, ACBuG trustee, said:  "Reaching this major milestone has been a real community effort and would not have been possible without the support and encouragement of a number of key stakeholders; with the financial support received from several local organisations and trusts absolutely essential."
The ACBuG was formed in response to community requests for better public transport services in Auchterarder.
It will operate six days a week with direct links to shops and St Margaret's Health Centre.
Members of the ACBuG board are keen to promote the new service so that as many members of the community as possible can make use of the new bus link.
Andrew Warrington, ACBuG chairman, said: "ACBuG members are really keen that locals who currently find it difficult to access the town centre, health centre etc are made aware of this new community based bus service.
"The town bus service leaflet will be distributed widely throughout the community prior to August 5 and we are happy to supply copies to local shops, community groups and other organisations on request."
Carol Duncan, ACBuG secretary and one of the original members of the group said it was exciting to see the project come to fruition after years of planning.
Carol said: "(We) had an initial discussions a few years ago about the need for a town bus service and it is so exciting that it has become a reality; with the start date now just a couple of weeks away.
"ACBuG will be holding a coffee morning at the Aytoun Hall, Auchterarder, on Saturday, July 20 at 10am to promote the new town bus service and allow local residents to come along and find out about it.
"Timetables will be available and ACBuG members will be on hand to provide information about the routes and fares."
The bus will be low floor and wheelchair accessible and a flat fare scheme will apply throughout the town, whilst holders of National Entitlement Cards will travel free.