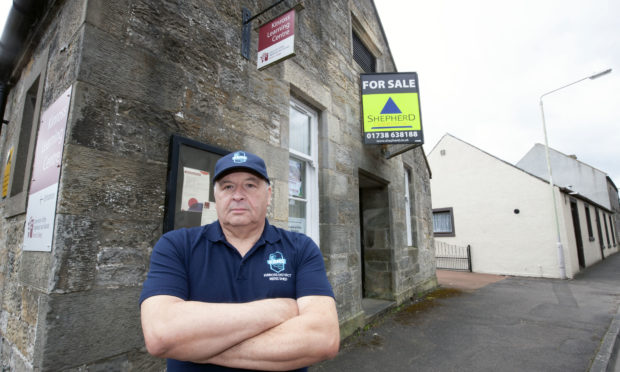 A community group has scrapped plans to take over the former college building in Kinross.
Kinross and District Men's Shed members' initial plans for a community asset transfer (CAT) to take over the Perth College UHI learning centre, fell through earlier in the summer, shortly after the sudden closure announcement,
The group's current facility, an old wine warehouse in Milnathort, lacks up-to-date electricity and heating, prompting the decision to move.
Not giving up and backed by funding from the Arthur and Margaret Thompson Trust, the group returned and put in a bid of £125,000 for the premises on the open market.
But when a deadline of August 16 was placed on the sale of the building, private developers moved in with increased bids, which Men's Shed branch secretary Roy Gilmour believes to be in the region of £200,000.
He said: "This [deadline] has allowed other parties time to prepare much higher bids, probably beyond the value of the premises, thereby pricing out any bid we could make.
"UHI did not provide details of the running costs for the building despite our request for these.
"The stress of trying to sort this out has made some of our members ill. Men's Shed is about health and wellbeing, so we've decided not to pursue the site.
"UHI want to make as much profit as they can from the building. We had the support of the community but no other groups came forward with any money."
Perth College UHI bosses expressed their disappointment at the group withdrawing from the bidding war, and have stressed they did all they could to assist in keeping the building in community hands.
A spokesperson said: "We are disappointed by the news that the Men's Shed trustees have decided to withdraw from the bidding process for the Kinross Learning Centre.
"Perth College UHI have supported all community fundraising efforts to keep the building within community use and regret that there appears to have been tensions between the community groups.
"We postponed the original closing date in good faith to give the various groups time to prepare their bid.
"Running costs could not be accurately defined as they would depend on variable factors such as specialist equipment usage impacting on power consumption, opening times and the amount of people using the building."
Councillor Richard Watters was also disappointed to see the Men's Shed project fall through.
He said: "It looks as though the college is trying to maximise the profit it can make, which is very disappointing. Another community building is going to be taken out of public hands again.
"The building would have been fantastic – there're not many places like this."