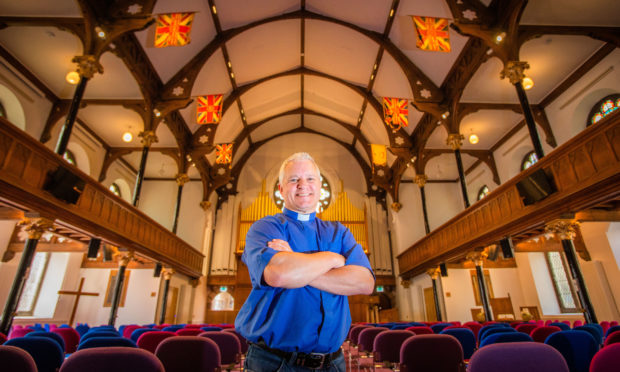 After 12 years of making history and causing controversy – with a bit of expert plastering work thrown in for good measure – a Perth minister is setting off for pastures new and looking forward to getting "back to basics".
Reverend Scott Burton is leaving Perth for a new kirk on the west coast after a rollercoaster stint at St Matthews.
The former plasterer famously rolled up his sleeves and applied his skills during a near-million pound revamp of his landmark riverside church.
The 49-year-old said the experience had left him "burnt out" and in need of a change of pace.
He has now accepted a ministry in rural Kintrye on the west coast of Scotland. His final service in Perth will be on Sunday morning.
"Unless I was going to retire from here, which would probably mean another 25 years, this day was always going to come," he said.
"I have been here for 12-and-a-half years and we have achieved some great things, particularly the refurbishment of the church.
"But I found that doing all that work, to get to this stage, was an enormous undertaking.
"As well as the physical work, we had to raise the best part of £1 million and we also had to get the political will from the wider church, both regional and national, to achieve what we wanted to achieve.
"All of that took its toll on me, and I did find myself burnt out."
He said it was the right time to hand the church over to a new minister.
"I think St Matthews now needs someone with fresh vision and fresh energy. Someone who will say 'come on, let's try something new'," he added.
During his time in Perth, Rev Brown has been no stranger to controversy.
He was forced to defend a fund-raising partnership with Inveralmond Brewery – selling St Matthew's Ale – which was criticised by some congregation members, and questioned by an alcohol abuse charity.
Last year, he made history by being the first Church of Scotland minister to open a LGBT Pride event – a move that was widely applauded, but also attracted messages of hate including remarks from a Dundee minister who urged Rev Brown to "repent".
"I've never been a minister who goes looking for controversy," he said. "Some people might even think I enjoy controversy, but I really don't. In fact, I suffer from anxiety at times.
"But when certain people in the community feel that the church is not for them, or not a place where they would be welcome, or that God's love won't extend to them for whatever reason, then that to me is the real controversy.
"I have always sought to counter that and say that all are welcome."
A keen kayaker, who wrote a book on white water rafting during his time in Perth, Rev Brown said he will miss a lot about the city and its people, but is looking forward to "getting back to the basics of ministry" in Argyll.
"I think a lot of people will say that my biggest highlight has been the refurbishment, and, yes, that has been right up there for me.
"But my biggest privilege has been simply being a minster, and being with bereaved families, young couples on their wedding days and parents having their babies baptised.
"My personal highlight has been seeing one man coming to church and finding his faith. And now six years down the line, he is is about to start his probation as a minister. That is a wonderful thing for me."