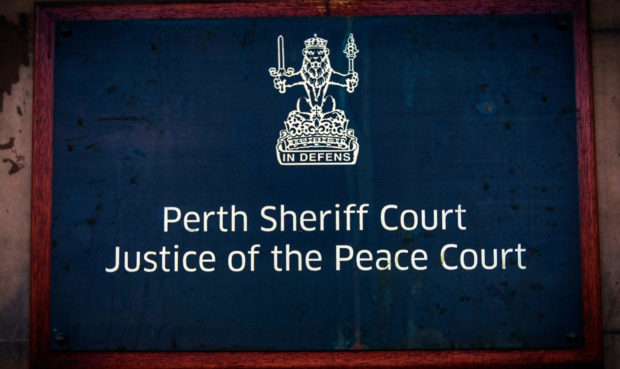 A domestic abuser who subjected his partner to a terrifying sustained attack was unaware police were listening to the whole incident during a 25-minute phonecall.
George Trueland rained blows on his victim and hurled racist abuse at her while police recorded the beating and officers raced to the scene to save her.
A sheriff said he planned to play the full 25-minute phonecall in court but after just a few minutes of the harrowing call he stopped it and said: "I've heard enough."
Trueland, 47, of McOwan Avenue, Crieff, was remanded in custody for reports to be prepared and warned he almost certainly faced a prison sentence.
He admitted assaulting and injuring the woman by repeatedly punching her on the body in Crieff on November 8.
He also admitted shouting, swearing and uttering racist remarks.
Perth Sheriff Court was told Trueland, who has several domestic abuse convictions, started attacking his partner because he feared she was cheating on him.
Depute fiscal Catriona MacQueen said the woman was on the phone to report his initial attack when Trueland returned to carry out further abuse.
She dropped the phone, but the line remained open and police call handlers were able to hear Trueland abusing her for nearly half an hour.
The fiscal said the abuse began on the street.
"He began accusing her of being unfaithful. He pushed her from behind, causing her to fall and then punched the front of her body.
"She stood up and ran around the corner. The accused ran after her, which caused her to scream."
Trueland walked off and the woman went home, only to discover he had got there first and was sitting waiting for her so he could continue the violent abuse.
"He pushed her on to a mattress and punched her three times.
"She heard the front door closing and believed he had exited the property. She phoned the police. She was in a state of terror.
"The call was recorded. She was whispering as she was terrified the accused was going to come back in. She heard the accused re-enter. She thought she had hung up but the line remained open and what occurred thereafter was recorded by the police control room.
"The accused is heard to be aggressive and the complainer sounds terrified. She is crying and screaming in pain."
When police arrived they found her extremely distressed and with a series of fresh injuries on top of older, similar wounds.
Trueland initially denied hurling abuse or physically assaulting his victim but admitted it when the recording of the phonecall was played to him.
Sheriff William Wood said: "I have to tell you that, having heard the narrative and considered what's on the recording, it does seem as though a custodial sentence is inevitable."