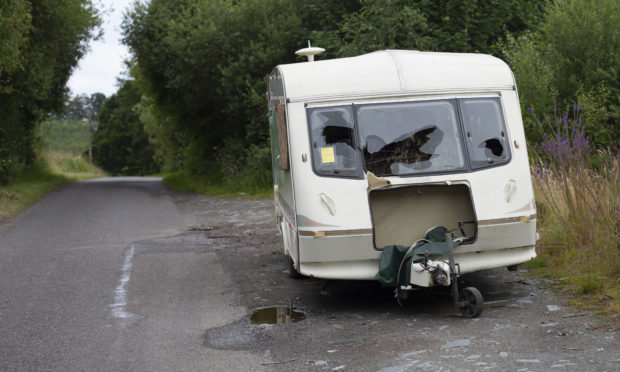 No one has been prosecuted for fly-tipping in Perth and Kinross for nearly a decade, new figures have revealed.
Despite thousands of complaints since 2010, it has emerged rogue rubbish dumpers are getting away scot-free.
The shock results have prompted the local authority to announce a tougher stance on illegal tipping, with  environment and infrastructure convener Angus Forbes promising to meet officers in the coming weeks and explore all options for future action.
Alleged offences were reported to the environmental health team 3,728 times between 2010 and 2018.
Data released by Perth and Kinross Council showed, of these cases, none resulted in a successful prosecution.
Mr Forbes said: "Fly tipping is something I feel strongly about and I have been having discussions with officers recently about a couple of incidents where everyone seems to know exactly who is responsible but the evidence is simply not there to prosecute.
"If the council go to court and lose a case, then that public money is wasted, so they need to be 100% sure the evidence is solid."
He said: "I would like to see a much harder line taken with this sort of crime which affects the look and feel of our countryside.
"I will be meeting officers after the summer to see what further action can be taken or what extra resources they need to combat this effectively."
The Conservative councillor urged the public to continue reporting any incidents.
He said: "If they can get a registration number then even better.
"If you employ tradesmen to remove rubbish on your behalf, make sure they are disposing of it properly."
The council has been recently dealing with complaints about an abandoned caravan, which was left at the roadside between Pitcairngreen and Moneydie. The vehicle has been slapped with a "notice of intention to remove".
It is estimated illegal fly-tipping costs the country more than £100 million a year.
SNP MP Pete Wishart said he was "astonished" by the lack of prosecutions in Perth and Kinross.
He said: "This sends out entirely the wrong message to those who take the time to report incidents of fly-tipping but most importantly, it suggests to those who are dumping waste illegally that they will get away with it."
A council spokeswoman said reports range from black bags left alongside wheelie bins to large-scale furniture dumped in the countryside.
"In many cases, it is difficult to find evidence or witnesses required to progress with prosecution," she said.
"Perth and Kinross Council does not have dedicated litter and waste enforcement officers to issue fixed penalty notices. There are other officers within the council who are authorised to issue these notices, however they have their own substantive duties such as animal welfare, community waste and operational functions."
She added: "While we haven't prosecuted anyone we try to work on educating anyone found responsible ensuring householders have the correct information on kerbside and bring-site for household waste and that businesses put appropriate and legally compliant waste disposal arrangements in place to prevent any reoccurrence."