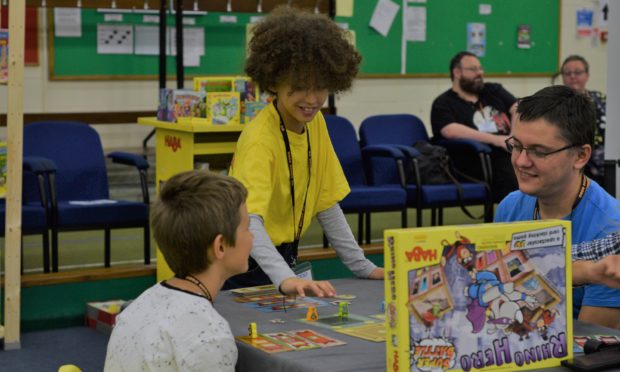 Thousands of gamers are expected to flock to Perth at the end of the month for the second annual Tabletop Scotland Convention – and they could see a new world record set while they're at it.
The event drew 1,500 people to the Dewar's Centre last year, and director David Wright is hoping for even more when it goes ahead on August 24 and 25.
He said the festival, which will include board games and tabletop activities such as Dungeons and Dragons, was part of a growing trend of people moving away from online gaming to something "more social".
David said: "We've had great support from publishers and exhibitors, with some coming to Perth from as far as Poland, Latvia and Denmark.
"We're expecting attendees from across Europe, the US and Canada as well, which is really exciting."
He said the number of exhibitors had risen from 24 to 36 and there would be stalls selling crafts too.
"We created Tabletop Scotland to be a focal point for the hobby in Scotland, aiming to bring together those new to the hobby with those who are already involved," he added.
"We know that many of this year's attendees have only recently discovered this hobby and, as with 2018, we're hosting dedicated demonstration and introductory areas for new tabletop gamers to explore what's available."
Part of the convention will involve David trying to break an unusual world record, all in the name of a local hospice.
He explained: "Last year, someone put a photo of me up on Twitter with five or six lanyards on, and we joked about what the record was.
"After looking it up, we found out that it's only 300. I think we can beat that quite comfortably.
"Last year we raised over £1,000 for charity, and this year we'd like to double that for MacMillan's Cornhill Centre in Perth, so people can put a lanyard on me for £1 and we'll do the count at 4pm on Sunday."
The convention will also be raising money through a "bring and buy" section where festival-goers can sell their old board games.
Returning to Perth was an easy decision for the Fife-based committee, who are hoping their expectations are exceeded again.
David explained: "Last year was our first event and it caught us by surprise. We were only expecting about 450 people. This year we've doubled the floor space but we're not expecting to double the number of people.
"We looked at Edinburgh and Glasgow and Aberdeen, but when my wife attended the Festival of Yarn at Dewar's I headed along and knew we could work here. We've kept it here as the feedback we got was that it was great to get to geographically."