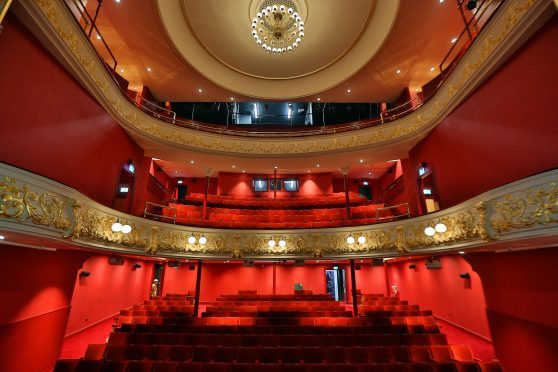 Struggling Horsecross Arts has been bailed out by Perth and Kinross Council, after it emerged a spiralling cash crisis had put staff wages at risk.
In April, the operators of Perth's theatre and concert hall were told to turn around their performance record and boost attendance figures, following serious concerns about poor financial management.
The local authority has now been forced to fast-track funding for Horsecross to ensure  its 150-strong workforce got paid.
The council said it has "no option but to take further, immediate remedial action to ensure the survival of the company".
Head of Culture and Communities Fiona Robertson, who led Perth's bid for City of Culture 2021, has been meantime appointed to lead Horsecross, while the authority's chief accountant Scott Walker will step in to provide financial management.
A new interim chief executive is being sought "as a matter of urgency".
Council leader Murray Lyle said: "The council has repeatedly advised Horsecross Arts to improve their financial governance and long-term business planning.
"Council funding to the organisation has remained considerable, despite diminishing resources and increasing demands on public monies, with Horsecross receiving an increase in council funding in 2019/20."
He said: "It is unfortunate that, despite this, Horsecross has been unable to develop a sustainable business model."
Mr Lyle said he was confident that Ms Robertson and Mr Walker could work with the board to turn around Horecross' fortunes.
Horsecross chairman Magnus Linklater said he was grateful to the council for releasing funding that had been pledged in February. During budget talks, the Tory/Lib Dem administration agreed to grant £180,000 to Horsecross "subject to a revised business operating model."
Mr Linklater said: "The organisation has faced several challenges in recent years, not the least of which was re-opening Perth Theatre at a time when there was a limited amount of funding for the artistic programme, and the two venues were being operated on a restricted budget."
He said, despite budget problems, support from audiences, stakeholders and the local community was "consistently positive".
He added: "We look forward to working with the council to address the challenges of running our award-winning venues, against a testing financial background, building on the range of savings already introduced by the board and our interim chief executive (Mike Griffiths, who quit this year), aimed at securing the long-term future of the organisation."
Ms Robertson said: "Horsecross Arts has a fantastic record of artistic achievement and is rightly respected for the quality and variety of theatre and music it presents.
"The talented and dedicated team at Horsecross deserve a sustainable future, and that is what we will be working to provide."
It comes just weeks after members of the council's scrutiny committee was given an update on Horsecross's financial situation. Convener Grant Laing said: "It is very disappointing to hear this, particularly because at the meeting in June it appeared that Horsecross had finally turned a corner."