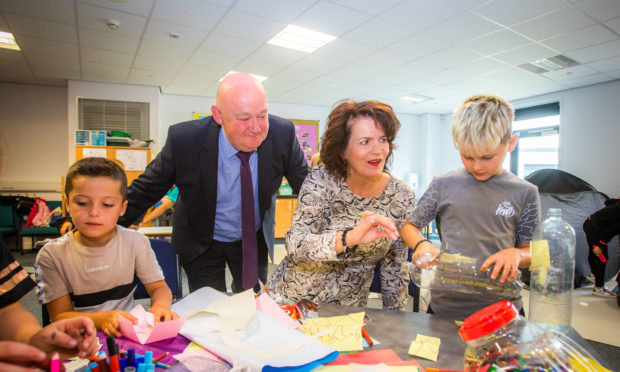 A trial holiday hunger and activity programme, aimed at giving Perth youngsters a square meal and a chance to blow off some steam with their friends, has been declared a success by education bosses.
The Taste of St John's project, run by St John's Academy from the North Inch Community Campus, was set up to provide youngsters with a nutritious meal, as well as social activities throughout the break.
St John's headteacher Sean Hagney said the programme was exactly what community campuses were intended to bring to their neighbourhoods.
A number of other Scottish local authorities have set up schemes offering free school lunches to pupils during breaks between term time.
The Perth and Kinross Council-funded project was created with as much of a focus on social activities to help beat boredom during the long summer holiday.
The authority built on the success of pilot schemes held last summer at Letham and Rattray primary schools.
On the agenda for S1 to S3 pupils were days out gorge walking and visiting climbing walls with outdoor education specialists.
Primary school pupils also got involved in various play activities making use of the school's PE and home economics facilities.
Mr Hagney said: "Our summer activity programme has had a really positive start this year and is something we would be keen on building upon in the future.
"The children and young people have really enjoyed spending time in the campus over the summer with the focus on getting outdoors and playing.
"Our teams of staff who have ensured that each day is fun have done a superb job."
The local authority's education and children's services director Sheena Devlin said: "This is the first time Perth and Kinross Council has put money into this kind of activity, recognising the fact that particularly over a seven week holiday period, that's a long time for youngsters to be not seeing their friends.
"A big part of this is not just about the meal, it's about the opportunity to meet with others, socialise, play games and have fun.
"It's really about supporting families as best as we can during what we know can be a challenging time."