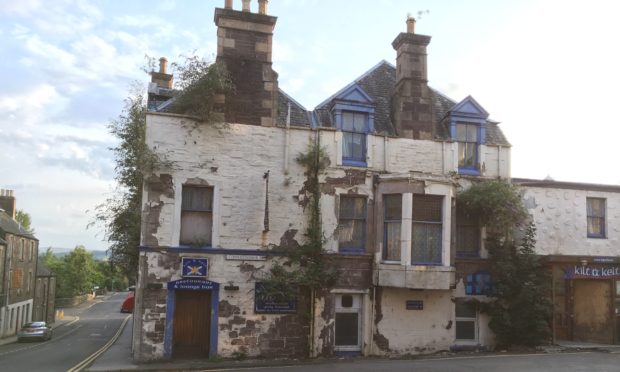 A Crieff campaigner has accused Perth and Kinross Council of "neglecting" areas of the town with abandoned hotels and overgrown weeds creating eyesores in the area.
Craig Finlay, a former community council chairman, wants the council to take quick action and tidy up the Perthshire town before thousands of tourists arrive for the Crieff Gathering on August 18.
Mr Finlay claims that areas of particular concern are the abandoned Crieff Hotel and Kilt and Kelt Hotel as well as the overgrown weeds and litter surrounding Leadenflower Road car park.
The campaigner has written a letter to the council's housing and environment executive director, Barbara Renton, demanding urgent action on the "neglected areas".
Mr Finlay said: "One of the town's main public car parks in Leadenflower Road leads those who are parking-up to visit Crieff directly towards the first major eyesore – Crieff Hotel.
"The grounds of the hotel are strewn with litter and weeds, and several species of tree grow from cracks in the building.
"What is worse is that a local authority bench and garden directly opposite the hotel is covered in weeds which have not been tended to this year.
"During the Highland Gathering, hundreds will walk down King Street towards Market Park, where the event is held.
"They will probably be using mobile phones to video a pipe band procession along the route to post to social media.
"One of the landmarks along the way will be the former Kilt and Kelt Hotel in Commissioner Street which resembles a jungle, again with dozens of large trees growing from the brickwork, in this case with some sections possibly posing a danger to those passing by."
The campaigner highlighted that local community groups and volunteers have spent many hours tending to the neglected parts of Crieff and have "worked tirelessly" to bring improvements to the town, such as the Highland cow art trail and Crieff Comedy Festival.
Perth and Kinross Council have said that undertaking work in Crieff is a "priority".
A council spokesperson said: "We have seen delays in our weed control programme due to the recent inclement weather. However, we recognise the importance of this site to the image of Crieff and will undertake this work as a priority.
"We expect that this work will be completed over the next few weeks with the help of an external contractor.
"Perth and Kinross Council is now also looking at options to resolve issues surrounding certain buildings in Crieff that have been identified to be in a state of disrepair, and are working alongside owners to bring the properties back into use."