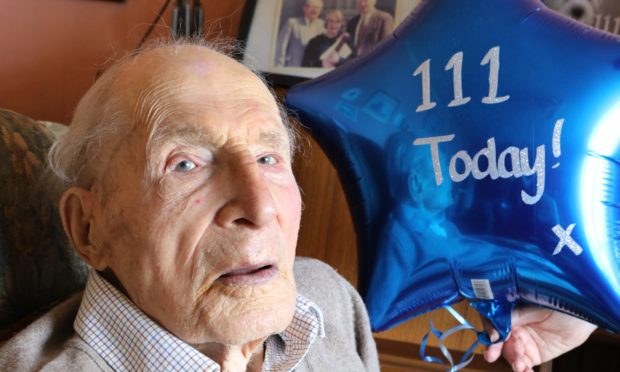 The long and remarkable life of Scotland's oldest man was celebrated with a service in Perth yesterday.
Alf Smith died earlier this month at the age of 111 years and 128 days.
He had jointly held the title of Britain's oldest man with Bob Weighton, of Hampshire, who was also born on March 29 1908.
Mourners at Perth Crematorium were told how Mr Smith had relished every one of his birthdays.
The Reverend Marc Bircham, who knew him for 20 years, told the congregation: "We all have our own personal memories – and you would need a lifetime to tell Alf's story.
"Alf was my greatest encourager and I was blessed to know such a wonderful man.
"And boy, did he enjoy his birthdays – when folk would come and wish him many happy returns. It didn't matter if you were a provost, a councillor, a moderator of the General Assembly or a child in primary one, you got a welcome and you left knowing you had spent time with someone special, someone who was unique."
Mr Smith was born on March 29 1908, the fifth son of John Smith, a coal merchant, and Jessie Dow.
Along with his five brothers Bob, George, John, Alec and Jim, his early life was spent in Invergowrie.
He attended primary school there before going onto Dundee's Harris Academy. After leaving at the age of 14, he took up a position with a merchant gardener, delivering fruit and vegetables across Dundee in a horse-drawn cart.
In 1927 he used the Assisted Passage Scheme to emigrate to Canada, joining his brother Bob in an area of Saskatchewan called Govan.
However following the death of his father, he returned to Scotland in 1932 to help his brother George run their business.
During the Second World War, he was in the Home Guard, and married Isobel when he was 29.
Mrs Smith died 16 years ago. The couple had a daughter, Irene, and a son, Allan, and began working Goukton Farm, Kinfauns in 1945, which Mr Smith ran with his son until he retired at the age of 70.
He died away on August 4 at his home in St Madoes with his daughter by his side
Mr Bircham regaled the mourners with tales of Mr Smith's life, including one from the 13 years he spent working with the family business.
Mr Bircham said: "He was a bit of a boy racer, was our Alf – twice he was stopped for speeding, reaching the giddy speed of 23mph.
"This resulted in George receiving a letter asking if he really should employ such a reckless driver.
"Ironically not long after that he was stopped by the police at Invergowrie and the police man asked him for a lift. Alf was driving at 20mph when the policeman commented 'Can you not go a wee bit faster?'"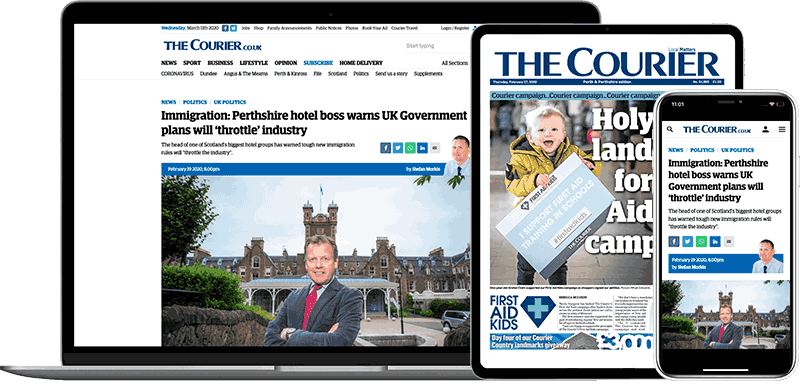 Help support quality local journalism … become a digital subscriber to The Courier
For as little as £5.99 a month you can access all of our content, including Premium articles.
Subscribe