IN FULL: Resident tells of shock as shed goes up in flames in blaze which closed down Carse village
The main road through a Carse of Gowrie village was closed for more than two hours after a shed caught fire.
Firefighters were called to property on Inchture's Main Street, near the parish church, shortly after 11.30am.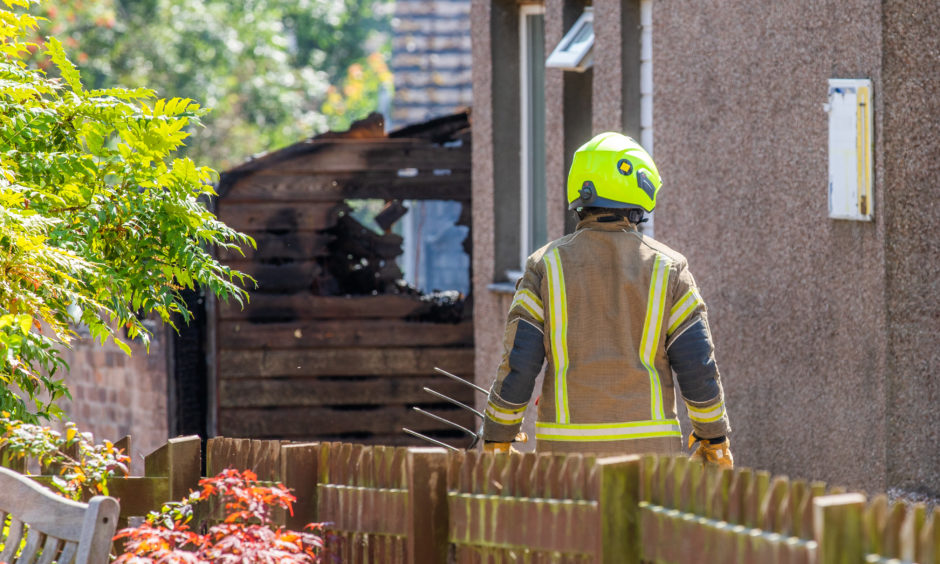 The blaze began in an empty shed and spread to the outbuilding of a neighbouring property. However crews were able to prevent it from spreading to nearby properties.
The shed's owner Arthur Smith said it had been empty at the time.
He fears it may have been started deliberately.
He said: "It didn't go up in the middle of the day on its own – it's been standing here for 30 years and suddenly it goes up in flames.
"My neighbour called me to say it was on fire so I stopped what I was doing and came to see.
"It's gutted. There was nothing in there and I've not been in there in years. I'll not be replacing it."
The owner of the outbuilding which caught fire on the other side of a stone wall did not want to comment.
Paul McFawns, of Ollybobbins florists, which backs on to the now burnt out shed, said his business had been unharmed.
He said: "We just got a call to say the shed behind the shop was on fire.
"We've been into the shop and thankfully it's ok, but the shed's not so good."
The road closure caused problems for the drivers of several lorries, who were forced to turn around. Buses also struggled to enter the village, with the number 39 Stagecoach service suspended.
Two fire engines were sent to the scene.
A fire service spokesperson said: "SFRS were called to an outbuilding at a cottage on Main Street, Inchture, at 11.41am.
"Two appliances are on the scene using a jet hose."
By 1.20pm, firefighters were dampening down the site but the flames had been put out. It is understood that nobody was injured.
The fire engines travelled from Dundee's McAlpine Road station and were joined by police crews at the scene.