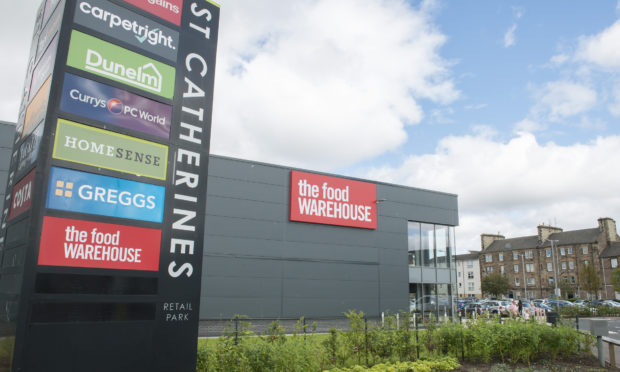 A Perth supermarket has been instructed to bring down its signage at its brand new store by the Scottish Government because it is too bright and makes the retail park look "cluttered".
The Food Warehouse, operated by frozen food chain Iceland Foods, opened up in the Fair City in May.
The store took one one of the newly revamped units at St Catherine's Retail Park, which formerly housed B&Q.
At the start of the year, the firm approached Perth and Kinross Council's planning department with proposals for bright red signage on two sides of the unit.
The proposals were signed off almost unanimously, but the local authority had issues with the illuminated sign on the southern side of the building.
In a letter to the firm, planning officers explained no consent would be granted for the high level wall mounted illuminated sign on the premises' southern elevation "in the interests of visual amenity to ensure a satisfactory standard of local environmental quality".
However, the signs remained up while the firm waited on a decision with Holyrood's Planning and Environmental Appeals Division after taking the call to the highest level.
But this week, government officials backed the local authority and demanded the branding is brought down.
In her report, government reporter Amanda Chisholm said: "The impression in St Catherine's North is one of a vibrant retail area with a significant amount of signage, leading to some visual clutter in one or two locations.
"In contrast, in the environs of the roundabout, there is relatively little signage and the impression is visually calmer.
"The disparity in size is immediately apparent to the observer, being the same size as the main signs over the shop doorways."
City centre councillor Andrew Parrott believes that allowing the sign to stay up would have set a precedent for allowing excessive advertising elsewhere in the city.
He said: "The Scottish Government siding with the council indicates that we made the right decision.
"Branding premises is part of life but there needs to be a reasonable limit to the amount of advertising which is permissible.
"This isn't about stopping The Food Warehouse from advertising, which they still are, but about making sure other businesses in the retail park aren't disadvantaged.
"This was a finely balanced decision and allowing the signs would have set a precedent for other businesses across the city. It is important that we don't detract from the townscape."
Iceland Foods bosses have vowed to return to the council with revised plans.
A company spokesperson said: "We note the dismissal of our appeal relating to a single illuminated sign at The Food Warehouse in Perth, and will be submitting an alternative proposal to replace this."