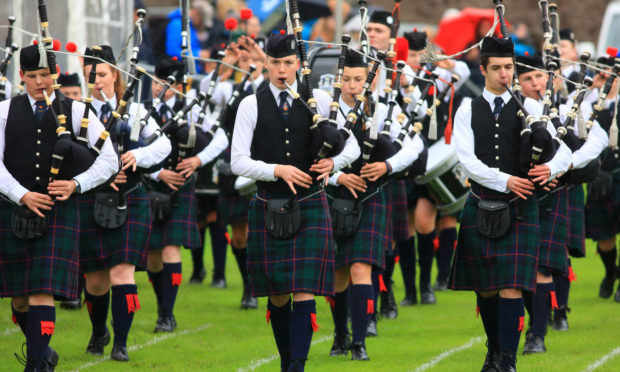 Heavyweight legend Bill Anderson was honoured at this weekend's Crieff Highland Gathering.
A lone piper played a lament to the Highland Games superstar who died last week, before the crowds erupted into a minute-long round of applause.
Mr Anderson MBE was a former judge and competitor at the Crieff games and organisers decided to pay tribute to the 82-year-old's memory at the start of Sunday's Scottish Heavyweight Events Championship.
Thousands flocked to Crieff's Market Park for the annual Gathering which dates back to 1870.
The event boasted the usual packed programme of competitions, light field events and dancing.
But new for 2019 was the Crieff Music Festival, held on Saturday to warm up the crowds for the main event.
The show featured a variety of local, up-and-coming acts and was headlined by Radio One DJs Scott Mills and Chris Stark.
Afterwards Chris took to social media to sing the event's praises: "Amazing night DJ'ing (at) Crieff Highland Gathering. What a brilliant event. Me and Scott had a great time. Thanks for making us feel so welcome."
Scott added: "The BEST, thanks everyone."
Crews were on site at daybreak on Sunday to get the arena ready for the main day of games.
Crowds, undeterred by bursts of rain throughout the afternoon, enjoyed a varied line-up of entertainment including a performance from the Guards Brigade Band, Silent Drill Platoon and Cultural Ensemble of Nigeria, taking time off from their stint at the Edinburgh Tattoo.
There was also a chance for budding strongmen and women to flex their muscles and try their hand at the famous Ardblair Stones, which are touring events across the country.
This year's gathering chieftain was John "Jack" Dewar, of local business JM Dewar Plant Contractor, a long-standing supporter of the games.
The Crieff Highland Gathering is among Scotland's longest-running games and boasts actor Ewan McGregor as a former chieftain.
The Trainspotting star previously said that the Gathering had "played a significant part in my families' lives over the years."